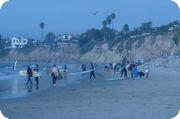 We're headed to San Diego today! I want to thank everyone who emailed me with suggestions for things to do and places to eat. We got some really great tips, and I cannot wait to get there.
Things are fairly loosely organized for this trip. We've been to San Diego before, and we know we'll go again, so there's no rush to see it all. We'll stay by the beach for a few days, spend some time with family, visit the zoo, check out the train museum in Balboa Park, and eat some really great seafood and Mexican food.
My bags are extra heavy this trip, which is a source of frustration. We have lots of gifts to give and extra outfits for parties we'll attend. I probably should have sent a few things ahead. On the upside, we'll rent car seats in San Diego, and we keep toys, sippies, and some other essentials at Grandma's house, so at least we're not lugging along a lot of baby gear.
Related Links:
San Diego Family Travel Guide
Tips for Air Flights with Kids
Packing Light with Babies and Toddlers
1 comment | Posted on December 17, 2007 |

Save to del.icio.us



Subscribe to our feed