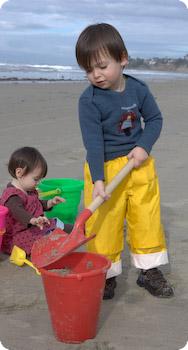 We flew back from Ontario Airport late Tuesday night. I'm not sure why we flew back so late at night. With the Christmas holiday, those must have been the only reasonably priced tickets.
The kids both slept on the flight, but woke up when we tried to transfer them out of the plane. (We manage that maneuver successfully about 50 percent of the time) After retrieving our luggage we took the car service home (cheaper than a cab & they provide car seats).
When we arrived home, the house was absolutely freezing. We usually turn the heater off when we travel to save money. Of course Tuesday was the first white Christmas in Seattle since 1996, and the house felt colder than outside. We didn't have the heart to change diapers, let alone put the kids to bed on their own in the cold. So, while we waited for the house heater & the space heaters we keep in the kids rooms to warm things up, the kids rediscovered their toys, drank a little milk, and generally acted tired and crazy. We finally got them in to bed at around 2am, which is making for really "interesting" behavior as we all get back on schedule and back into our normal routines.
Related Links:
San Diego Family Travel Guide
Flying With Babies, Toddlers, and Kids
Helping Your Baby or Toddler Sleep on a Plane
0 comments | Posted on December 27, 2007 |

Save to del.icio.us



Subscribe to our feed