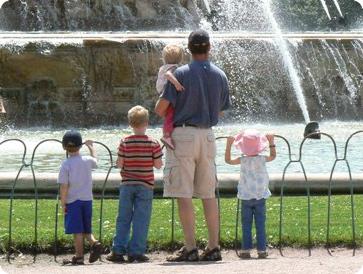 This is a guest post from "Minnemom" at Travels With Children. Minnemom blogs about her roadtrips around the midwest with her four kids (ages 7, 5, 4, and 2). I always enjoy her travel stories, and her site is a great place to research kid friendly ideas in destinations like Iowa, Minnesota, Illinois, North Dakota and South Dakota.
I also want to thank Minnemom for sharing her travel recommendations in our Kid Friendly City Guides. Each one links back to her website where you can get even more information. We are headed to Chicago this fall, and I can't wait to check out these great recommendations with my own kids!
Traveling with four children isn't always easy, but we enjoy spending time together and exploring beyond the borders of our little world. For a one-week vacation, Chicago fit the bill. We had only one travel day on each end, and five days to see all we could of the Windy City. We visited a lot of interesting places and came away with some lasting memories. Here are some of our favorites:
Riding a real, "double-decker" commuter train was a huge event for our boys. They especially liked the return trip when they rode on the upper level. For me, the memories of very nearly missing the train on the way into the city and the kind couple who helped us unload two strollers, four sleeping children, and a day's worth of baby gear on the return trip outweigh the train ride itself.
The Museum of Science and Industry has been one of my favorites for many years. I loved, however, that the kids remembered a trip there from two years previous, and wanted badly to go back. While we enjoyed so much of the museum, the Idea Factory was the biggest hit with the kids. This hands-on area science discovery area is a lot of fun. With gears, balls, water, pulleys, and more, it's a kid's museum dream-come-true. A toddler area, separated by a low wall, provides a safe play area for the little ones.
As a former Iowan, Grant Wood's artwork has a special place in my heart. We introduced the kids to Grant Wood's American Gothic before going to the Art Institute, and they were so excited to see it in person. (They had seen spoofs of it but hadn't realized it was an important piece of art.) In the family area of the Kraft Education Center at the Art Institute, we put together an American Gothic puzzle before heading out to the museum to find it as our "I Spy" painting. Several months later, while in Iowa, they asked to go to the Cedar Rapids Museum of Art to see more of Grant Wood's work. It's fun to see them making connections between different places we've visited.
The Graue Mill is a real piece of history, a working gristmill and formerly a stop on the Underground Railroad. My husband was very interested in the Underground Railroad aspect, and the kids love learning about the "old days." A scavenger hunt in the mill added more interest for the kids, and our oldest even got to help run the mill. It was so peaceful and quiet there, right in the midst of Chicagoland, and the kids really enjoyed it even though it isn't big or glitzy. I love watching their appreciation for history develop.
Minnemom's Tips for Traveling with Young Children
Have a plan in place in case you are separated from your children. I had ID bracelets engraved with our cell phone numbers for each of the kids.
Plan ahead if you're requesting travel information by mail. I requested things a month before our trip, but some didn't arrive until after we were home again. Here are some other resources for finding Travel Information
Make a list of all the places you might want to visit. Include location, hours, prices, and contact information, and organize by general locale. Then you can be flexible with your days by looking at a list of nearby attractions and judging what will be best, depending on the needs of your family. We weathered some unexpected changes in plans without any trouble because we had plenty of backups mapped out.
Do a trial run in your hometown if possible. We went to nearby Minneapolis, parked the car, and took the train downtown to a museum and restaurant. We learned that we needed to remember snacks and sippy cups, as well as what our stroller needs would be for our trip.
Pack more snacks than you think you'll need. If restaurants are hard to find or not kid-friendly, snacks like raisins, breakfast bars, juice boxes, can sustain kids for quite a while.
Follow your kids' cues. My husband and I would have liked to spend more time at some of the museums, but we left before the kids reached their breaking points. A well-timed car ride can offer some down time for the kids to rejuvenate.
Consider purchasing memberships at local museums that have nation-wide reciprocity. Our memberships, combined with free days at some museums, meant that we only paid admission at two of the ten attractions we visited. Here are some of my other tips for Family Adventures on a Budget
If possible, we stay in one motel for several nights. It seems that the kids are always wound up the first night, but calm down on subsequent nights in the same place. Of course, we also like to stick with a place that has a room big enough for the six of us. Accommodations for Larger Families has more on the subject of finding lodging for larger families.
Be sure your kids are traveling safely in appropriate carseats for their age and size. Our easy-to-understand carseat information has links will help navigate the tangle of seat choices and proper installation and use.
Have fun wherever you end up! A location doesn't have to be big or popular in order to make great family memories.
Related Links
Kid Friendly City Guide: Chicago With Kids
3 comments | Posted on July 22, 2008 |

Save to del.icio.us



Subscribe to our feed