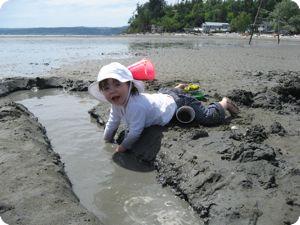 Last week I stayed home with E & D while my husband was away on business. By the weekend, we were all ready for a serious change of pace. Rather than sweat out the first warm weather of the season at home, we packed up the car and headed an hour north to Camano Island.
Camano Island, in many ways, is an ideal retreat from Seattle. Not only is it a short drive, but the island is close enough to land to have a bridge crossing instead of a ferry. Its sheltered location means that there are no big waves for parents with young kids to worry about. The island is dotted with parks, public beaches and picnic areas, but we're lucky enough to have friends with a home on the beach, making the trip particularly low key.
During the day the tide rolls out leaving a wide swath of sand, rocks and mud for the kids to play in. In this picture, D is digging and enjoying the sand. In the distance, you can see the tide slowly rolling back in. When the tide finally did arrive, the kids giggled as it tickled their toes and "chased" them to shore. The sand and mud, warmed by the sun during the day, heats up the water to a comfortable temperature for walking or swimming,
We spent the afternoon and early evening playing in the grass with water toys, stomp rockets, and balls... the staples of a happy toddler, and dined on pizza before heading back to Seattle. Not only did the trip free me of the responsibility to be the sole entertainment for my kids in a city where we've visited just about everything, but both kids fell asleep in the car and transferred easily into their own cozy beds leaving me with my first quiet evening all week.
A quick trip like this one, and two hours in the car can sometimes seem daunting, but I'm glad we did it. Everyone's day was happier than it would have been if we'd been at home and despite the high price of gas, I'm certain that I saved money compared with the inevitable "treats" I would have bought the kids had they stayed home. Best of all, I'll have these memories and pictures forever.
Related Links
Camano Island Visitor Information
Seattle With Kids
0 comments | Posted on May 20, 2008 |

Save to del.icio.us



Subscribe to our feed