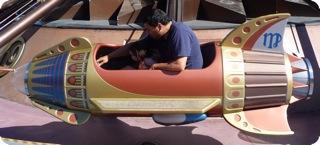 Next weekend, Disneyland is flying the whole family down to Southern California for a special mom bloggers event. Needless to say, after whetting their appetites less than a month ago, the kids cannot wait to hop on the plane. E asks my every day whether we can go to Disneyland, and I know that the thought of seeing his Grandmother while we're there is an extra thrill.
The one thing E is not thrilled about is the prospect of going on rides (our missteps last time have scarred him, possibly for life) Can anyone recommend some low-key, upbeat rides for little kids? Nothing more threatening than Small World!
If you happen to be flying down for next weekend's mom blogger event, please send me a note! I'll be looking forward to meeting everyone.
7 comments | Posted on November 29, 2008 |

Save to del.icio.us



Subscribe to our feed