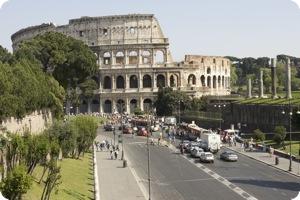 When I met Angela Nickerson at the Book Passage Travel Writer's Conference this summer, I knew I just had to get her to write a guest article for DeliciousBaby. Not only has she lead countless teenagers on tours through Rome, but she's also written a beautiful book about the city, A Journey Into Michelangelo's Rome
. It's filled with images that will inspire you to hop on a plane to Rome as soon as you can, and packed with information to help you understand the city's artistic treasures more deeply.
My regular readers know that Rome is a fascinating destination for young kids too, and it doesn't take much imagination to figure out how to tailor Angela's recommendations for younger kids. For even more ideas about Rome With Kids check out our city guide, based on my own trip to Rome with (then) 1 year old E.
Roaming with Teens: Rome
I want to dispel the myth right away: teenagers love Rome. I have traveled with teens across Europe, and I have yet to meet one who said that Rome was boring. Rome is a fantastic city for teenaged travelers. It is bustling and cosmopolitan and yet full of culture and history – much of which teens have or will study in school, seen in movies, or read about in books. In fact, that's the key to enjoying Rome with teens: finding things that are familiar to them. Fans of Gladiator will love the Colosseum. If you loved the HBO series Rome, you will love the Forum and the Palatine Hill. That poster of two hands reaching for each other – there it is in real life on the Sistine Chapel ceiling.
But it is easy to fall into the Tourist Trap in Rome: following the flocks of tour groups as they traipse from the Vatican Museums to the Mouth of Truth and then on to the Circus Maximus. I often see American tourists wandering around looking overwhelmed and dazed, unsure of where to go next and what to do. That never makes for a happy family trip, and those travelers rarely see the real Rome. Balance the museums with a few destinations off the standard tour itinerary, and your teen – and your entire family -- will have a fantastic time in Rome.
For those of you with young, hip, and very cool teens (and aren't they all), head to Trastevere. This neighborhood is filled with small, inexpensive shops, eclectic restaurants, and great gelato places and is home to Rome's twenty-something crowd. Polvere di Tempo (Via del Moro, 59) is a shop that looks like it dropped out of Harry Potter and features handmade hourglasses, sundials, and other curiosities that make great souvenirs. Be sure to stop into Santa Maria in Trastevere, one of Rome's oldest and most beautiful churches. While the mosaics in the church are very old and will impress even the hippest teen, the piazza in front of the church is also pretty cool. On nice evenings it is filled with attractive stalls selling inexpensive leather goods. And just a few blocks away you'll find Gino's in Trastevere (85 Via della Lungaretta). This is the perfect casual pizzeria – very Italian and generally filled with young people enjoying Pizza Margherita. And it isn't so cool or trendy that parents feel out of place.
Almost everyone who visits Rome ends up at the Vatican, and most of those people visit St. Peter's Basilica. However, very few people know that you can climb to the top. You will need to go through security at St. Peter's Basilica, and then ask for the climb to the cupola. There is an elevator, which takes you to the roof, and the views inside and out are breathtaking. While there is a small souvenier stand and a rather limited café on the roof, it is a great place for a picnic lunch. But you are only half-way there, and the 320-some steps to the top of the dome are worth the exertion. There's a reason the dome is called "the Eighth Hill of Rome." Young photographers will enjoy capturing not only the city's sprawl but also some intimate views of the Pope's private gardens.
Romans love evenings in the summer, and there are often outdoor concerts in the city. All of the world's great music groups end up in Rome at some point, and some of the concert venues are pretty spectacular – the Colosseum, the Baths of Caracalla, and the Parco della Musica, amongst others. Recently Madonna thrilled audiences at the Stadio Olympico, and whether your teen is into pop, metal, rap, reggae, or opera, the music scene in Rome has something to offer. Tickets are often available online, but if you didn't plan ahead, check with your hotel's concierge about concerts during your stay.
Just a short walk from the Colosseum, the Basilica of San Clemente (Via San Giovanni in Laterano) isn't famous for what is in it but rather for what is under it. Excavations during the late 19th and early 20th centuries revealed layers and layers of the city beneath the church stretching back nearly 3000 years. Now, for a modest fee, you too can explore Rome's underworld. Teens can find it hard to imagine how a city is built in layers, but descending beneath the church into the rooms and streets that have been excavated illustrates the point brilliantly. It is an incredible visualization of just how much garbage and debris a city generates over time, too – an astonishing thought for teens raised in a consumer culture. After the museum, cross the street to Pizza Rustica, a fantastic hole-in-the-wall serving pizza, suppli (rice balls breaded and fried), and gyros. The food is both good and cheap, but seating is limited, so you may end up sitting on the benches outside the church.
For sports fans, Rome has two Seria A (professional soccer) teams – AS Roma and SS Lazio. Romans are fans of one or the other and are passionate about their teams. Their fanaticism is infectious, too. Both teams play in the Stadio Olympico (home of the 1960 Olympics), and if you can get tickets to a match, go. Italian soccer is an intense experience involving cheering, singing, fireworks, and sometimes fighting. This is not for small children, however. Unlike sports events in the United States, the emphasis is not on concessions and souvenirs. Rather the fans all know songs about their favorite – and least favorite -- players. They throw fireworks onto the field at times. And the police are vigilant keeping fans from starting brawls. If your teen enjoys sports and people-watching, a soccer match is the perfect activity. Official team merchandise is for sale in team stores including the AS Roma Store in Piazza Colonna. Unofficial merchandise is available all over the city in street stalls.
Not up for a live sporting event? Campo dei Fiori is filled with restaurants where the locals and visiting students watch the games on TV. Become a fan for a night and enjoy the festive atmosphere. And nearby, the Obika Mozzarella Bar (Piazza di Firenze at Via dei Prefetti) offers an interesting alternative to pizza. Specializing in mozzarella in its many forms, Obika is chic, delicious, and reasonable. The atmosphere is very sophisticated, and teens will enjoy the food as well as the local crowd.
Many families make the mistake of taking a "day trip" to Pompeii from Rome. While Pompeii is fascinating, it is also 4 hours from Rome by bus (each way), which makes for a very long day trip and bored kids. Instead, explore the ruins at Ostia Antica. Easily accessible by train (30 minutes or so), Ostia Antica is an archaeological park where the ancient port city for Rome is actively being excavated. Buy a map and wander through an entire ancient Roman town. Traveling with teenaged thespians or singers? Make sure they try the acoustics in the amphitheater – impromptu performing is encouraged. They will find that the ancient Romans didn't need microphones by design. The gymnasium looks like a grassy field, but adventurous teens can wander into the tunnels beneath. And photographers will find fantastic mosaics and sculptures to capture against blue skies.
Once you have enjoyed the park, take the train just one more stop, and you will be in the modern seaside resort of Ostia. Just a few blocks from the train station you will find the beach, complete with charming cabanas and cafes, and your family can report home that you've swum in the Mediterranean Sea. Whatever you do and wherever you go, enjoy Rome! It is a fantastic city, and one trip may inspire a lifelong obsession in visitors of any age. Buon Viaggio!
Biographical Information:
Angela K. Nickerson is a freelance writer and tour escort. Her first book, A Journey Into Michelangelo's Rome
combines her great passions -- travel, art, history, and Italy – in one volume. She can be reached through her blog, Just Go!
Related Links:
Rome With Kids
Itinerary: Rome's Forum and Colosseum With Kids
Itinerary: Historic Rome With Kids
5 comments | Posted on October 2, 2008 |

Save to del.icio.us



Subscribe to our feed