This is a much delayed post about my trip to Arizona back in December. To read more about Arizona, see related links at the bottom of this post.
We started the day today with a visit to the Desert Botanical Garden, a showcase for the wide variety of plants that grow in Southwestern deserts. A Botanical Garden might not seem like a great outing for kids, but D and E always seem to enjoy running around outside and they have been absolutely fascinated by all the cacti on this trip.
My husband stayed home with still-sleeping E, giving me D (and my parents) all to myself. D has been particularly attached to her dad on this trip, and while I'm glad to see her get so much of his time, I have missed her affection. It's a little tough when your 2 year old tells you "mom, you're not my best friend, daddy is my best friend." I'll admit that I enjoyed having her fawn over me, feed me snacks, and want me to carry her instead of constantly insisting on her dad - possibly even more than the garden itself.
The weather here has been unseasonably cold, and today was the first day that we were able to walk around outside comfortably in lightweight sweaters. Little D loved the small flowers nestled in amongst the cacti and rocks, and it was fun to seek out plants that might interest her. Chihuly Glass Sculptures also added an interesting dimension to the garden. Being from Seattle, I've seen lots of Dale Chihuly's work both in galleries and installed, and it has never really clicked with me. Somehow, though, the spiky, spiny, glass sculptures really worked in amongst the varied heights and shapes of desert plants, making this a nice opportunity to see a different side of his work.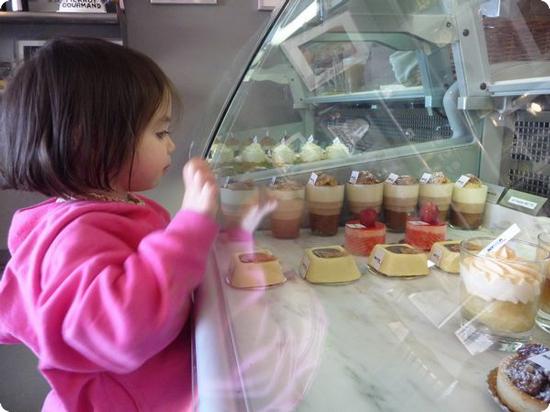 When we finally finished touring the gardens, everyone met up for lunch at Scratch Pastries. This was by far the best non-Mexican food we had in Arizona, and made for a nice change of pace. I feasted on a duck sandwich while the kids devoured homemade crepes and quiche. The restaurant was just urban enough to feel like a grown-up treat, but with high-chairs and a reasonably kid friendly menu everyone was happy. The sparkling pastry case provided a great incentive for the kids to finish their lunches.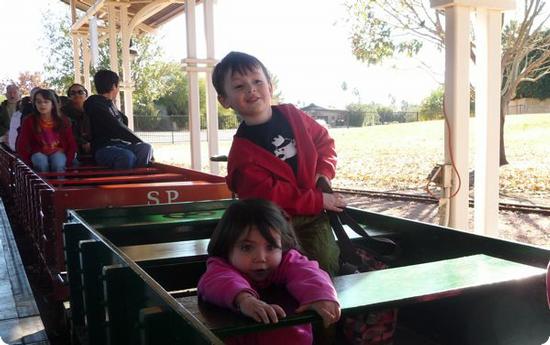 With a growup friendly meal under our belts, it seemed like time to do something just for the kids. They've cooperated so nicely with museums, gardens, and other adult attractions on this trip, but they need a little kid-time too. McCormick Stillman Railroad Park seemed like a sure-fire hit. The park turned out to be remarkably well designed. There is no admission charge, instead kids pay for rides on the park's miniature train and carousel as they go. A shaded play area with separate toddler and big-kid gyms was a huge hit, and several model train clubs house their scale-models here (kids and adults can view them for an optional donation). All this meant that the kids could explore different activities without going very far.
It felt like the kids ran through the entire park - I'm not sure they ever stopped running (at least not until D finally ran herself into exhaustion and needed to be put down for a nap). As their interest in one activity tapered off, they discovered the next one, and the variety kept them going for the rest of the day. The only drawback? E is determined to convince me to throw his next birthday party here...
Related Links
Phoenix With Kids
Phoenix With Kids Day 4: Heard Museum and Fry Bread House
Phoenix With Kids Day 3: Taliesin West and the Arizona Science Center
Phoenix With Kids Day 1: Sun and Relaxation
0 comments | Posted on February 25, 2009 |

Save to del.icio.us



Subscribe to our feed