This is a guest post from Amy of PitStopsForKids. On her blog, Amy shares her favorite roadside restaurants, attractions, motels and more, and parents can also submit their recommendations. Amy was kind enough to share some of her favorite ideas for places to stop between Portland, OR and San Francisco - I wish I'd had this article a few weeks ago when my husband and E did their first father-son roadtrip along that exact route (hopefully he'll write up his story for us soon!)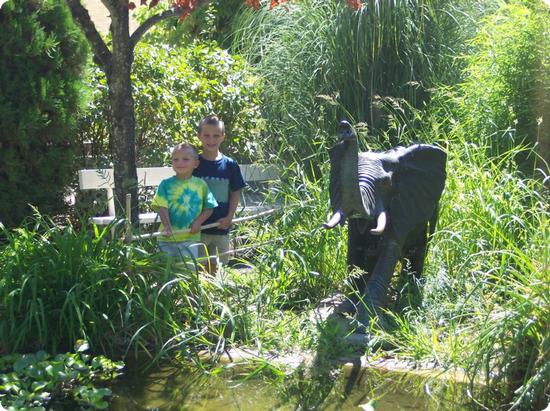 Whether you're headed north to Seattle or south to the vacation Mecca of Southern California, I-5 is one loooong ribbon of road. Luckily for those of us with squirmy passengers in need of frequent potty breaks (husbands can be so high-maintenance), there's lots to stop and do along the way. The four attractions below are only a handful of the most tried-and-true for my own family.
The first time my youngest son spied a hint of the Enchanted Forest from the freeway, he leaned forward in his car seat in excitement to shout: "Mom! I see fun!" And so he had. But it's worth noting that what he had spotted was the infrastructure of a metal rollercoaster not actually part of the Enchanted Forest park, but rather of a long-defunct carnival-type attraction that sits adjacent to the property. Why its still there is anyone's guess, but never fear: the park that is operating is far superior, at least in the minds of younger children and adults. Imagine Disney's Fantasyland, and then scale it back in half. Then halve it again (and the crowds, too), but retain the charm. Now you have Enchanted Forest.
The park is small and therefore very manageable. You start at Storybook Lane, which winds its way up a fairly steep hillside. Every few yards, the kids come across a new attraction: Alice's rabbit hole, a crooked house, a long slide down a giant shoe.
At the top of the hill past Storybook Lane you'll also find Western Town and the English Village. Keep an eye out for the Indian Caves (again, picture Disney's Tom Sawyer's Island, then visualize it small enough to sit and watch your kids from a nearby bench). At the far end of the park, there are some actual rides--the log ride and the dragon-themed roller coaster are our favorites--but they do require extra tickets (the type you'd purchase at a fair) and have height restrictions.
You can see all of Enchanted Forest in a few hours, or you can spend all day. We usually stop for about three hours, then have to force our children to leave. Their only consolation? The obligatory routing of traffic through the gift shop (shoppe, actually, in keeping with the village theme) in order to reach the exit.
Wildlife Safari, Winston OR
As a card-carrying PETA member, I was dubious of the quality of Wildlife Safari…until I paid it a visit. It truly is a fantastic zoological park. It's located just a few miles off I-5 south of Roseburg, but don't worry…the colorful roadside signs will alert you of its proximity in plenty of time, and if they don't, any child in your car able to read will. Upon entering the park, you have two options: begin with the driving tour of the safari grounds, where you'll cruise slowly through various sanctuaries housing free-roaming zebras, giraffes, elephants, and everything else you can imagine (lions and tigers and bears oh my!), or park and walk through the center safari square, where you'll find the gift shop, food (pretty decent!) and some smaller animals, like reptiles, turtles, a very loud monkey, and a small train ride. Intuition would tell you to start there--get out and release your own monkeys from the confines of the car--but my suggestion is the driving tour, because with admission, you get to go through twice. It works well to drive through, park and visit the walking grounds, then drive through once more on your way out.
Castle Crags State Park, Dunsmuir, CA
For a more low-key, and certainly cheaper pitstop just miles over the California border, pull over at Castle Crags State Park. There's a day use fee of $6 per car, but that'll buy you a beautiful picnic area just across the river from the main entrance (that would be the upper Sacramento River), forest groves to explore, and hiking trails as short as one mile (or longer). If you plan ahead, you can stop a few miles back in Dunsmuir for sandwiches.
In the summer, Castle Crags is a much less crowded option than nearby Lake Shasta, and often your last cool pit-stop before entering the blisteringly hot Redding area and Sacramento Valley.
California State Railroad Museum, Sacramento, CA
You know those places you loved as a kid, then took your own children back to eagerly only to find them somehow lacking? This is not one of those places. The California State Railroad Museum is simply stunning, whether you first saw it in 1985 (like me) or are visiting for the first time in 2009. And you don't even have to be a train enthusiast to love it. The museum is primarily about California history, which is fitting, considering that it's situated in the center of Old Sacramento (worth walking through afterward).
The exhibit halls are cavernous and impressive. Young kids will love walking through the engines and cabooses and peeking into the cabins of sleeper and diner cars (there are always very well-informed docents on-hand) and the halls depicting the railroad's role in the early days of the California Gold Rush are amazing. There's a great IMAX-style video presentation as well. On spring and summer weekends, stream train rides are offered. We've never taken advantage of this (I think the 40-minute ride time dissuaded us), but if you have a real train-crazy kid on your hands, it might be worth the better part of an hour (and the extra cost).
Thanks to Amy of PitStopsForKids for this great guest post. Readers, take a moment to stop by Amy's website and recommend your own favorite pitstops.
6 comments | Posted on May 4, 2009 |

Save to del.icio.us



Subscribe to our feed