This is an unpaid review of the PeaPod Plus Portable Children's Travel Bed
. My review policy dictates that I never keep freebies valued at over $40, and I gave this unit away to a reader in a random giveaway.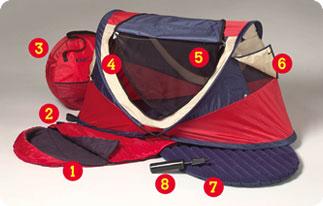 We don't usually bring a travel crib with us when we travel. Instead, in an effort to travel light, we co-sleep when we're on the road. Still, co-sleeping is not for every family, and not every hotel crib lives up to current safety standards.
My readers often ask me which travel-crib I recommend, and I thought it would be helpful to review the PeaPod Plus Portable Children's Travel Bed
. As a comparison I have previously reviewed the Baby Bjorn Travel Crib Light, and also my own Graco Pack n Play
.
Overview
The PeaPod is part bed, part tent, making it a good choice for families who will be outdoors during their vacation (for instance at the beach) and need a shady or darkened space for their child to nap. The inflatable mattress is designed to make a hard surface more comfortable, and a fitted sleeping bag is included. The PeaPod folds up into its own carrying case, and weighs 6.9 pounds. If you want to travel even lighter, the tent by itself weighs 3.4 pounds and would fit in a large rolling bag, but not in most carryon size wheelie bags. While it was light enough for 4 1/2 year old E to carry, the size and shape made it too difficult for him to carry it more than a few paces.
Setup
Opening and shaping the bed required almost no effort at all. Just remove the elastic band that keeps the bed folded and everything springs into place. Even 2 1/2 year old D was able to set up this travel bed.
I was worried that blowing up the air mattress might take an eternity, so I timed how long it took to fill with the included pump. It took almost exactly two minutes of nonstop pumping to fill the bag. Not bad, but if money were no object I still might be tempted to splurge on a model that includes a self-inflating mattress, in part to reduce the total amount of bulk.
The air mattress slides into a pocket underneath the tent so that even if the fitted sleeping bag moves around, your child will not be sleeping directly on plastic.
The sleeping bag can be shortened or extended depending on the size of your child. Extended, it fit 4 1/2 year old E comfortably.
Safety
According to the manufacturer, the included sleeping bag for use by children over one year old. My children move around a lot at night, so I personally would probably wait until closer to age 2.
The CPSC recommends that infants never be placed on an air mattress because of the risk that the mattress might deflate and cause the child to suffocate. This particular mattress is thin, and therefore seems less risky than a bulkier air mattress, but it would be best to use the travel bed without an air mattress if you have an infant.
Use
Both my 4 1/2 year old and my 2 1/2 year old fit comfortably in the PeaPod, though my older child was just on the verge of growing out of it. The kids were able to open and close the zippers themselves, and to climb in and out comfortably. Both kids were incredibly enthusiastic about the cozy space and the sleeping bag, and begged me to keep the PeaPod instead of giving it away. This is the first time they've asked me to keep any of the products I have reviewed for this site.
I liked the solid flaps that covered the mesh openings. They could be rolled up for air circulation or to give your child a view of the world outside the bed, or rolled down to provide a darkened environment.
The frame seemed sturdy and resilient, but because I want to give it away in good condition, I protected it from the sort of abuse that an active toddler or preschooler might subject it to. Readers, if you own this product, tell me in comments how well the frame holds its shape over time.
Folding the PeaPod back up after use seemed like it would be tricky, but in practice I just sort of twisted it together into itself until it was the right size and shape. The instructions include pictures showing exactly how to fold up the PeaPod.
Cost
The PeaPod Travel Bed ranges in price between $65.95 and $84.95 depending on features, and is available in a variety of colors.
PeaPod Travel Bed Vs. Baby Bjorn Travel Crib and Graco Pack and Play
The PeaPod Travel Bed did not seem as comfortable as the Baby Bjorn (which has a very thick mattress), but significantly less bulky than either the Baby Bjorn or the Pack and Play. Also, some parents might not like the fact that it would be easy for even a crawling baby to get in and out of this bed. Setup and packing were easier than either of the other travel cribs, and it is also significantly less bulky when closed.
These advantages, together with the relatively low price make it our top pick.
Conclusion
For parents who want an inexpensive travel crib that fits inside their checked baggage, this is our top pick.
Related Links
Amazon:
PeaPod Plus Portable Children's Travel Bed
Amazon:
BABYBJÖRN Travel Crib Light
Favorite Baby Travel Gear
13 comments | Posted on September 9, 2009 |

Save to del.icio.us



Subscribe to our feed