It's always a treat when we find a great coffee shop near our hotel. I love sneaking out to pick up fresh pastry in the morning, and I rarely have the patience for a full sit-down breakfast. Breakfast at Farm:Table exactly fit the bill. The menu is simple, but with items like "daily toast" and fresh made baked goods it feels special. There's a cozy table tucked in the corner that made the perfect spot to snack on our bannana muffins and olive oil bread. This coffee shop is so welcoming, it almost feels as if you are entering someone's home.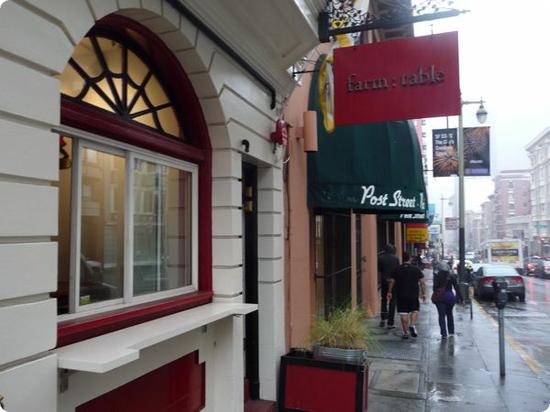 Next we hopped on a train to Golden Gate Park where we planned to visit the California Academy of Sciences.
Check out D's pants. These are her current favorites. They always draw attention whether we are at home or traveling, and they're certainly the perfect thing to cheer everyone up in foggy San Francisco. As I write this tonight she is wearing them to bed so that she won't forget to put them on in the morning!
As a child, I made several trips a year to the California Academy of Sciences in San Francisco. The museum is part aquarium, part planetarium and part natural history museum. As a child, I loved the crocodiles in the main entrance, the calm aquarium, and the quiet library filled with kids activities. Since then, the museum has been torn down and completely re-thought and rebuilt. It reopened in 2008 to much fanfare, and this was my first chance to visit since the opening.
Wow! Was I impressed. What was planned to be a half-day outing turned into a full day as we explored different areas of the museum. There was a wide enough variety of activities that the kids were never bored. Still, we barely skimmed the surface of what was available to see, and I hope we'll return on our next trip to San Francisco.
We started with a visit to the 4-story Rainforest environment.
E has been obsessed with the Magic Treehouse books lately, and has mostly memorized Afternoon on the Amazon
, in which Jack and Annie visit the Amazon rainforest. When he saw the 4-story rainforest environment, he started jumping up and down! This was his chance to live out (and understand more deeply) the setting of one of his favorite books. As we worked our way up the ramp that circles the rainforest habitat, we were blown away by how much he remembered, including the names of each of the levels of the rainforest and many of the animals that lived in the forest. He was clearly reveling in the opportunity to see the plants and animals that had been mentioned in the book in real life.
The trip through the rainforest ends with an elevator ride from the top of the exhibition down to the basement aquarium - which houses a "flooded amazon forest" among other things.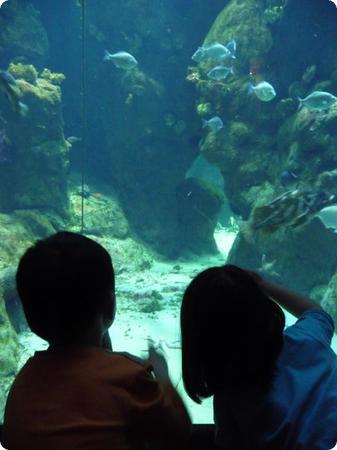 We'll be visiting the Monterey Bay Aquarium later in the week, so we didn't spend too much time here, but we loved the fact that so many tanks were at preschooler-eye-level (in contrast to the old aquarium which had lots of small tanks that were way up high. This darkened environment was a brilliant way to use the windowless underground space.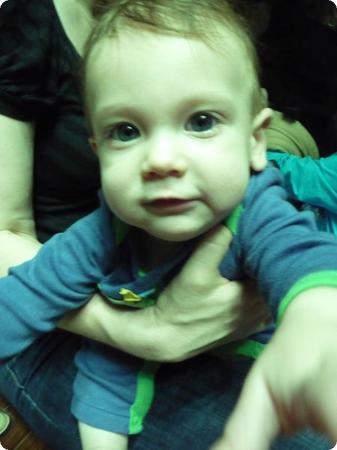 Our next stop was lunch, and the museum restaurant was so crowded that they were running out of food! We had a tricky time finding enough chairs for everyone, and I spent part of the meal standing, with Eilan on my hip, trying to spoon lunch into my mouth without making a toddler like mess on my own clothing. If I had it to do over, I would make advance reservations at the (fancier) moss restaurant or pack in a lunch.
We spent the afternoon on the museum's living roof and chilling out in the kid-friendly "naturalist center", with the kids doing puzzles while I leafed through children's books.
Finally, with the kids finally reaching their saturation point for quiet play and museum exploration, we visited the "Young Explorers" center. Essentially a preschool-aged indoor playground with a nature theme, this was just the thing the kids needed. There was space to play freely, lots of toys, and of course other kids of all ages. Sitting on the sidelines gave my husband and I a chance to chat too, and to relax a bit after a long day.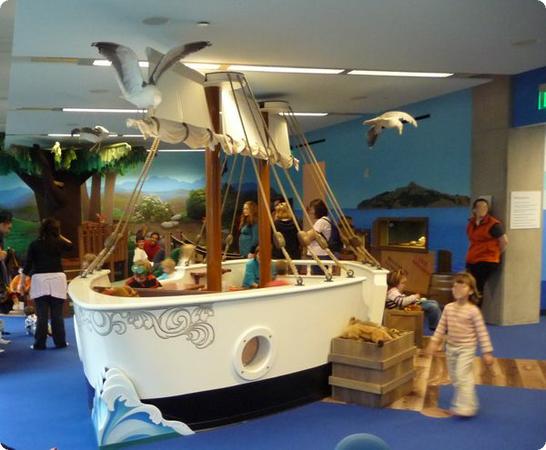 As we walked back towards the train station, we decided to stop at Park Chow for dinner. Park Chow is a neighborhood institution, and it's the perfect spot to have a family meal after a day in Golden Gate Park. At first glance, the menu might seem a bit boring, with American standards like hamburgers, spaghetti with meatballs and other classic dishes, but everything is so well prepared that even gourmets will be satisfied. To top it all off, the restaurant features several fresh homemade pies each day.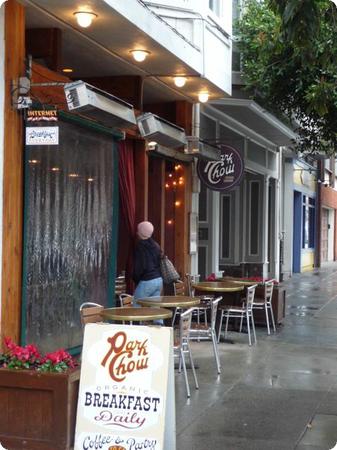 We were amazed at how well the kids did today, staying out all day (and in a museum no less), walking everywhere, and generally having a great time. There were some tricky moments, of course, but their enthusiasm at the Academy of Sciences was infectious, and we both really enjoyed reading the displays and trying to explain everything to them on their terms. This definitely raises the bar for what we'll attempt on future trips!
Related Links
San Francisco With Kids
Kid Friendly Itinerary: Golden Gate Park with Kids
9 comments | Posted on February 3, 2010 |

Save to del.icio.us



Subscribe to our feed