Fall arrived like a foggy curtain dropping down on Seattle in mid-October. After an unusually warm and dry fall, waking up to find myself enveloped in a gray morning, brilliantly colored leaves, and the threat of rain was a welcome surprise. With it came a craving for a trip to the mountains, a cup of hot chocolate, and my cozy down jacket. I'm ready to embrace fall this year, and a short roadtrip seemed like the perfect way to kick the season off right.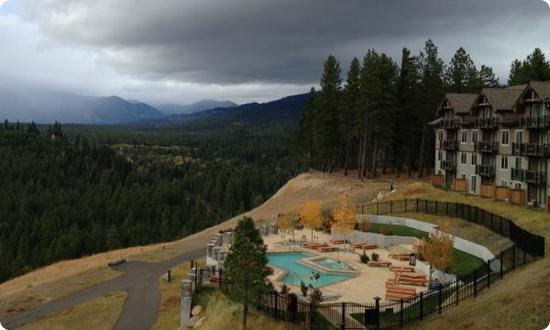 I haven't been to Suncadia Resort before, but the resort's Harvest Festival, scheduled for the same weekend as Darya's birthday grabbed my attention. The short drive (just 90 minutes from our home in Seattle) sealed the deal. We threw the kids' bikes and a few changes of clothing into the car and headed out of town.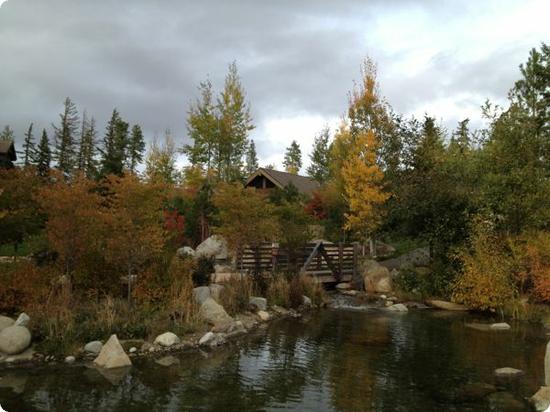 I'm always surprised at how quickly the buildings thin out and the mountains come in to greet me as we head east. The kids, too, were just thrilled to see wide open spaces. "Can we ride our bikes?" Everest shouted from the back seat, and soon all three were chiming in with plans for bike riding, tag, swimming, and playgrounds. If you're turning 6, that's an ideal way to spend your birthday!
The kids just couldn't wait to get moving, but we felt obligated to feed them. Poor Eilan was nearly heartbroken (and expressing it as only a 3 year old can) when we dragged him into Portals, Suncadia Resort's Restaurant. He was desperate to explore, but luckily, a set of children's books available to be borrowed was enough keep him busy (if on my lap) until the food arrived. Those books became a ritual during our stay, at each meal the kids would pick up a few and bring them to the table to enjoy.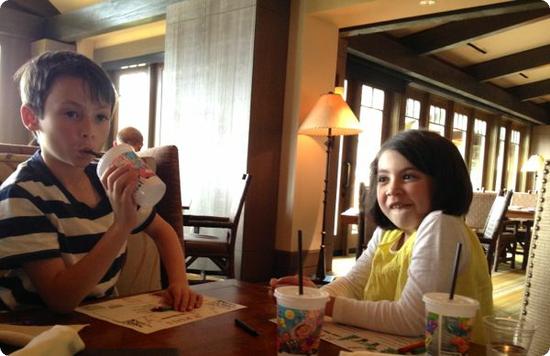 A paved bike trail connects the hotel to the Swim & Fitness Center, and as the kids rode over, I walked. As a mom of three, there aren't many moments during the day to enjoy my surroundings, so even a 5 minute walk feels like a respite, and I just wanted to soak in the mix of evergreen trees, maples, aspens and other plants I'm not clever enough to name. The variety of colors, shapes and textures would have made for fun leaf-gathering, but for now I was happy to leave all the leaves in their place and just breathe in Fall.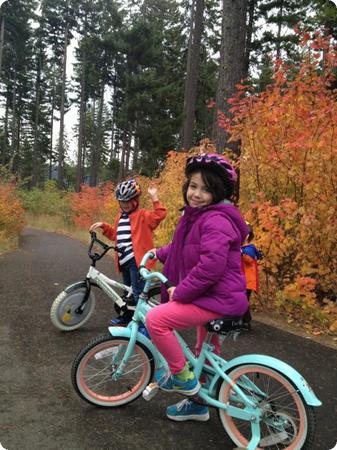 I'll be honest, taking the kids swimming is always a little stressful for me. The locker room feels like a gauntlet to be run, the gathering of clothing that seems to get tossed everywhere, the corralling of everything into a locker, and the rush to get three little bodies into swimsuits all at the same time. Follow it with the constant vigilance required while all three kids (none of them strong swimmers yet) are in the water, and it's a wonder we ever get in the water at all. Suncadia's outdoor pool area has a small tot pool, and a larger swimming pool with a shallow area, but the indoor pool is a bit smaller, with the shallow area being 3 1/2 feet deep, too deep for Eilan to splash around until we put him in a life jacket. I'm always reticent to get in the water with the kids, but the truth is that the warm water feels good to my tired muscles, and helps them find some ease that lasts throughout the day. Not as good as a real visit to the spa, but better for the soul than yet another weekend of schlepping the kids from birthday party to playdate and back again.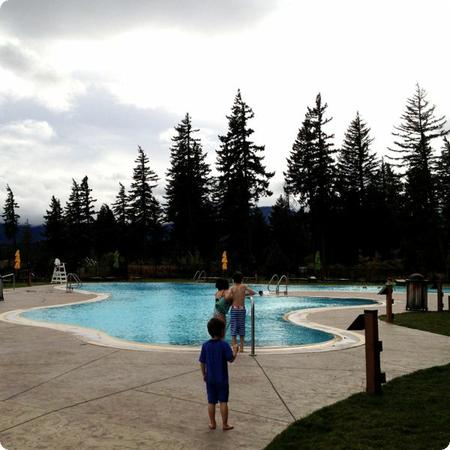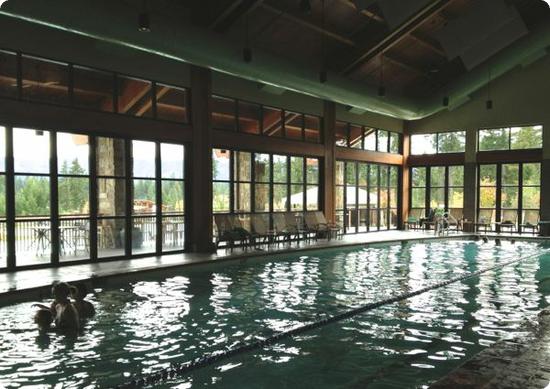 The traditional Harvest Festival the next day hit the sweet spot for us too. Eilan is old enough now to try and enjoy the activities, and Everest is still young enough to enjoy them. The kids wore themselves out with a hay maze, beanbag tosses, an obstacle course and even a spooky haunted house. Peyman and I got into the action too, running with them, laughing and sharing in their discovery of it all. After all that running, and a big lunch, they were ready to pile back in the car and sit remarkably quietly as we made the 90 minute ride back to Seattle. True, we would have loved to stay another day, but we also felt surprisingly satisfied with the time we'd enjoyed.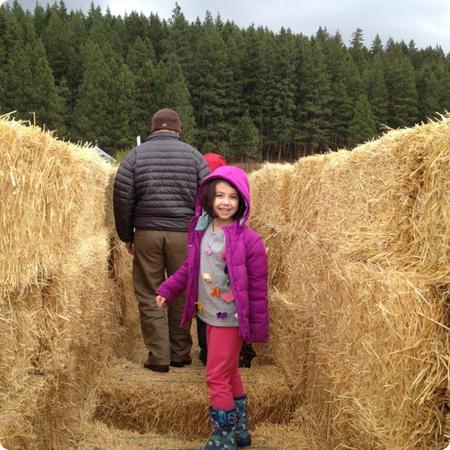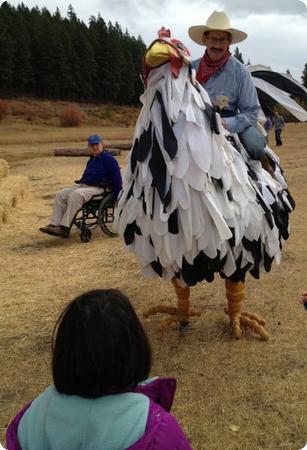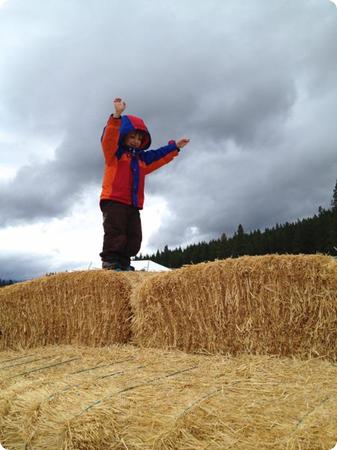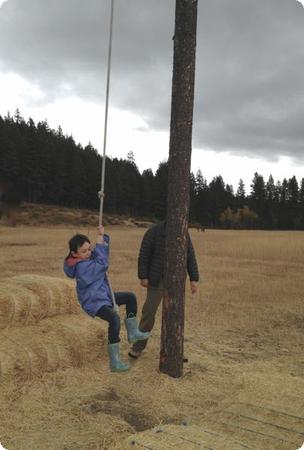 The trick, on a vacation like this one, is to find some headspace in amongst the bustle of family life, and for me, the bikepaths my kids were so happy to explore were a way to do that, we tried to ride everywhere and spend as much time outdoors as the weather would allow. I returned refreshed enough after our one night getaway to get comments from friends about how relaxed I looked, and armed with some fun memories to carry us through the darker fall days. It's a good lesson for a busy mom, sometimes even a night out of town is better than nothing at all.
Disclosure: I paid a reduced "media rate" for our stay at the Suncadia Resort, and our family also received a complementary appetizer and dessert at Portals, the resort's restaurant. The Suncadia Resort did not require that I express a particular point of view, and I always strive to present a fair and balanced review regardless of who is paying the bill.
Related Links
Conde Nast Traveler: Five Ways to Make a Fall Foliage Trip Fun for Kids
Seattle with Kids
6 comments | Posted on October 23, 2012 |

Save to del.icio.us



Subscribe to our feed