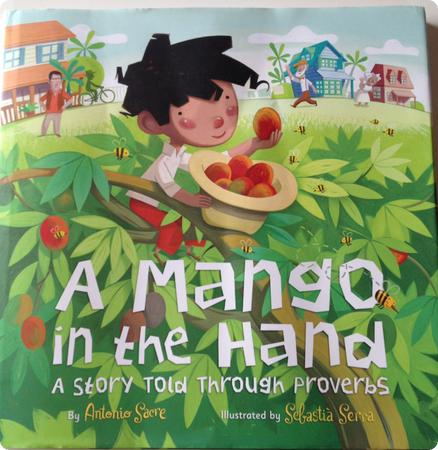 I'm a big fan of using books to teach my kids about the world even when we're not traveling. The proverbs from another culture can sometimes be a telling peek into how people really think. In A Mango in the Hand
, idioms and proverbs (told in both Spanish and English) take center stage in an adorable story about Francisco, a young Cuban boy who is entrusted with gathering mangos by himself for the first time.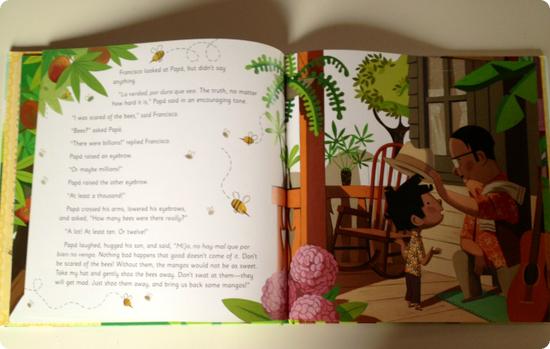 The illustrations, characters and setting create a strong sense of place in this story, and some things about Francisco's life (for example, waking up to a cup of cafe con leche or living in the same neighborhood with his uncle, aunt and grandmother) might seem surprising to American children. Those differences create a great launching off place for a discussion about people living differently in different parts of the world.
But what entranced Eilan as I read this story to him was the silliness and sense of adventure. Poor Francisco tries again and again to get those mangos, with something going wrong each time. His father helps him learn from his mistakes (with the help of all those proverbs), and finally he is able to pick and bring home mangos for his saint's day feast.
A Mango in the Hand
was given to me by the publisher to review. Because the total value of the books given to me for review exceeded $40 I have donated them to my childrens' school library. If you buy the book using the Amazon link at the end of the post, I earn a small commission, and that income helps me keep this site going.
Related Links
Children's Books for Families that Travel
Book Reviews on DeliciousBaby
2 comments | Posted on March 5, 2013 |

Save to del.icio.us



Subscribe to our feed