This product has been reworked and renamed as the Diono Radian RXT Convertible Car Seat
, now available on Amazon.
This is an unpaid review of two Radian 80 Convertable Carseats
that I purchased for my personal use. When I review a product or service that was given to me for free, I will always let you know. I never keep freebies valued at over $40.
In 3 1/2 months, I will have three carseat aged children. Mostly that's exciting, but when it comes to the actual carseats, it has been a little bit stressful. I drive a small station wagon that I absolutely love and don't plan to replace, yet the two car Britax Roundabout Carseats
installed in it now almost completely fill the back seat. As my due date draws closer, I've become increasingly worried that we would have to replace the car - so when I saw that the Radian 80 Convertable Carseat
was on sale at Amazon a few weeks ago, I jumped on the chance to buy two.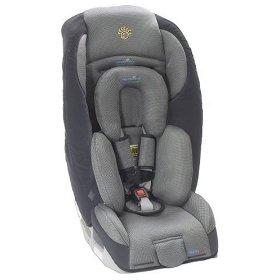 Why the Radian? I've been talking with friends, reading the car-seat tech newsgroups, and searching the Internet. The Radian 80 is the seat that everyone seems to recommend for three-across installations. Buying two brand new carseats when we are perfectly happy with what we have was painful, but not as painful as buying a new car would be.
The Good News

After a quick review of the manual, the Radian 80 was no harder to install than our current car seats.
After a huge investment of sweat, we were able to install two Radian car seats plus our infant car seat in the back seat of my car!
I like the sturdy steel frame. Beyond the federal minimum limits that all carseats must meet, there is no data about which carseats perform best, but this seat certainly seems very solid.
The Radian 80 can be used from birth until 80 pounds. We are in no rush to move E into a booster seat when he turns four and we hope to keep these seats for a long time.
The kids sit lower and closer to the car's seat in the Radian 80 than they do in the Britax. The lower seats make it easier for D to get into and out of her seat without help, and I appreciate having to retrieve fewer dropped items.
This carseat folds, which would make it easier to store than most carseats.
The Bad News

At 22 pounds, the Radian 80 weighs 9 pounds more than our Britax Roundabout
The "Super Cool" fabric doesn't seem as sturdy as the fabric on our Roundabout. If I were to order another seat, I would choose a different fabric option.
This seat sits more upright than most, which seems less comfortable for sleeping (though my kids have both fallen asleep in it)
The low seat height might make it difficult for smaller children to see out the window
Because of the seat's high back, the Radian takes up a lot of space when installed rear facing.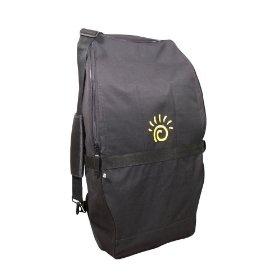 Traveling With The Radian 80
We have not yet flown with the Radian, but I wanted to cover this topic because experts often recommend this seat for travel. The seat folds, meaning that it is less likely to be damaged in transit than a traditional seat, and that it will fit more securely on a luggage cart. Sunshine Kids manufactures both a Radian Car Seat Travel Bag
(pictured) and a Car Seat Carry Strap
that lets you carry the seat over your shoulder (or with two straps, on your back).
Weighing (literally) against those helpful features is the 22 lb heft of the seat. I would not want to carry this seat through the airport. If we were traveling with carseats, I would have my husband drop me, the kids, and the seats off at curbside checkin before parking the car.
Update: A reader pointed out that the Radian works with the Go Go Kidz Travelmate
, which would enable you to convert the car seat into a stroller and push it through the airport with your child sitting in it.
Conclusion
Overall, I like this carseat. The huge versatility in age range, and the fact that I will be able to keep the kids in a five-point harness as long as possible is a plus for me. Even if we weren't on the verge of having a third child, I probably would have chosen to upgrade to this carseat (instead of a booster) when E outgrows his Britax in a few months.
Related Links
Diono Radian RXT Convertible Car Seat
on Amazon
Travel Car Seats
12 comments | Posted on February 2, 2009 |
Save to del.icio.us


Subscribe to our feed