This is a reader question from Susan who will be renting a car and wants to know about the safety of renting a car seat. As Susan knows, I've written much about this subject, including two investigations of unsafe car seats at rental car agencies. I've also heard from many readers who have had bad experiences at rental car agencies around the country.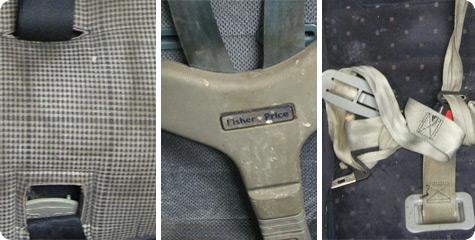 Hi Debbie,

I came across your blog b/c i am traveling with my 3 month old baby to Boston. Thanks so much for all the great information.

It's a short flight, but I will need to rent a car. I read one line where you say you had a "fine" experience with Hertz. Do you think all Hertz rentals have updated and clean car seats? Should I take my own just in case? On their website they say they offer Graco Snug ride seats and Costco convertible seats. I am a AAA member so the infant seat rental was actually "free." What is your opinion on whether I should take my own or hope that Hertz has good infant seats?

Thanks,
Susan
Susan,
Thanks so much for writing. I'm glad that my website was helpful to you and I hope you have a great time in Boston.
Through my readers, I have heard stories of unsafe or dirty car seats (or no available car seats at all) at every major rental car chain. It's no fun to get trapped at the airport without a safe car seat for your child, so I think the safest bet is to always bring your own seat.
Here are a few ideas that could help make your trip with the car seat in tow a little easier.
Consider checking your car seat. Most airlines do not charge a bag-check fee for car seats, but be sure to check your airline's policy in advance. Baggage (including car seats) is often left outside for brief periods of time (even when it is raining or snowing) so make sure that it is protected in a bag. The safest choice is the car seat's original packaging, which will also help protect the car seat from damage. Another option is to stow your car seat in a large plastic garbage bag. Finally, there are several high quality carseat bags to choose from, and many families are able to ship additional items that fit in the bag along with their carseat.

As with all luggage, make sure that your car seat is clearly labeled to help the airline find it should it be misrouted.

You might prefer to carry your carseat through the airport, and then gate check it (reducing the risk that it will be lost or damaged) or use it on the plane. Depending on what is most comfortable for you, there are several different types of car seat carriers ranging from backpacks to devices that convert your carseat into a stroller
Finally, if you travel frequently, you could consider buying a travel car seat.
If you absolutely must rent a car seat, following the advice on this page: Safety Tips for Renting a Carseat will help increase your odds of getting a safe seat.
Good luck!
Debbie

Related Links
Car Seat Carriers
Travel Car Seats
Safety Tips for Renting a Carseat
8 comments | Posted on June 23, 2009 |
Save to del.icio.us


Subscribe to our feed