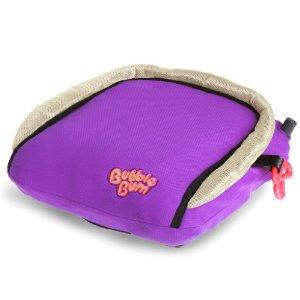 Sometimes I just get so curious about a travel product that even if I don't strictly "need" it, I have to try it for myself. That's what happened with the BubbleBum
, an inflatable booster seat that rolls up and stores in a bag when not in use. I was so surprised by the idea of an inflatable booster seat, that I just had to give it a try for myself and form my own opinion. Even after the company sent me one to try out, it was hard to get used to the idea. I had to try it and live with it for a while to decide whether I was comfortable with such a big switch from traditional carseats. In the end, a trip to San Diego with the seat clinched the deal, we'll be ordering our own to keep.
Cost
The BubbleBum
retails for $39.99, about $9 more than a traditional backless booster seat.
Uses
Why would someone want an inflatable booster car seat if they already have a traditional booster? The Bubblebum rolls up small enough to fit in a daypack or checked bag. That makes it a good choice if you'd like a carseat that's easy to travel with, can be carried around town to use in a Taxi, or want a spare booster to use for carpools. The BubbleBum is also the narrowest booster seat on the market, making work well for "three in a row" carseat configurations.
Size
In its packaging, the Bubblebum is approximately 7" tall and 5" in diameter when rolled into its bag. The bag is made out of stretchy material, making it easy to fit the booster back in it's carry bag even if you don't roll it as neatly as the manufacturer did. That's useful if you'll keep the booster seat in your trunk for carpools, but for travel, I prefer to keep it flat and slide it into the top of my checked luggage.
When inflated, the BubbleBum is narrower than most booster seats, boosters about 12.5 inches. If you have to fit a third child in the backseat of a car that is normally configured for two kids, it will probably fit.
Ages and Weights
The Bubblebum is designed for children over the age of four and between 40lbs and 80lbs in weight. Your child must also be able to sit for the entire journey without sitting on their knees. As a comparison, the Graco Backless TurboBooster
works for kids between 40 and 100 pounds, while the Sunshine Kids Santa Fe Booster Seat
works for kids 30 to 100 pounds
Using the Bubblebum

Inflating the Bubblebum
It took me 7 very deep breaths to fully inflate the booster seat, and when I timed it, it took about 30 seconds. I liked the booster's twist valve, it was easier to use than the pinch valve you would find on most inflatables, and felt very sturdy. You'll want to do this step yourself (instead of letting a child do it) so that you can ensure that the seat is fully inflated and that the valve is tightly closed.
Installation
Every time your child sits in the Bubblebum the lap portion of their seatbelt needs to be threaded through two red clips that the seatbelt in the proper spot across their legs. Because I worry about seatbelts twisting, I don't allow my kids to do this step themselves. In our minivan, I have to climb into the back to ensure that the seatbelt is installed properly, so that rules this out as a "daily use" booster for us. For shorter kids, there's also a Shoulder Belt Positioning Clip that can be used to position the shoulder belt so that it lays properly against the child's shoulder. That's an extra step that would also need to be done by an adult.
Comfort
It's easier to wiggle this seat around than one that is secured with latch connectors. If your child is likely to push their seat forward or side to side, this might not be the right choice, and for long car rides, when your child might like to lean back, they might be more comfortable with a booster seat that latches in place. My kids thought it was fine for short rides, but the inflatable chamber became uncomfortable on longer rides.
The Bubblebum's cover is not removable for machine washing, and can be surface cleaned only. My kids often snack in the car, and accidents sometimes happen, so this was another reason that I would rule it out as a daily use carseat for our family.
Safety

Every carseat provides at least some of the following safety features, and it's important to know which features the carseat you are buying provides, and make a purchase decision based on your needs.
Child Restraint Harness: a five point harness is the "gold standard" that would keep all of us (including adults) safest in the car.
Impact Protection: A high back with side "wings" provides the most impact protection. Many backless boosters include armrests that double as impact protection for the child's hips and lower body.
Correct Seatbelt Positioning: A properly designed booster seat positions the child so that the lap belt lies low across the child's hips (not their stomach) and the shoulder belt lies across the chest and onto the shoulder or collar bone (ref: safekids)
Energy Absorption: A carseat can help distribute the energy resulting from a crash so that not all of it is focused around the seatbelt.
Of these, the Bubble bum provides the seatbelt positioning feature and is made entirely of energy absorbing material that may provide some protection in a crash. It does not provide its own harness or impact protection.
Independent Evaluation
The BubbleBum has passed both US and European crash test regulations. European regulation requires that child safety car booster seats are tested in the worst case scenario which of course is deflated. The BubbleBum was inflated and then opened to allow to deflate and crash tested. It was in this state that the approval was obtained.
The highly regarded
Insurance Institute for Highway Safety (IIHS)
named listed the BubbleBum as one of 31 "Best Bet" carseats in its most recent round of tests. These tests focus on fit and correct positioning of the car seatbelt and do not include crash testing.
It's also important to note that the inflatable memory foam used in the Bubblebum is new car seat technology. The crash test specs look good, but this product does not have long term real world track record. More details about safety can be found on the manufacturer's website
Recommendation
The Bubblebum is a great choice for infrequent, short trips in the car. We'll purchase two, one for Everest and one for Darya. I plan to use them when we travel and do not plan to spend long periods of time in the car (i.e. taxi rides around town or a trip from the airport to downtown). The Bubblebum is also a good choice as a spare seat for carpools - it stows in a small package in the trunk and fits well between two already installed carseats in my car. For everyday use, we'll stick with our Radian Car Seat
carseats (LINK LINK), which I prefer because of comfort, the 5 point harness, and the impact protection.
Alternatives

The Ridesafer Travel Vest packs flat in a suitcase or daypack and works well for kids who aren't old enough for a backless booster. The vest can be hot if you are traveling in a warm area, and without a booster, your child may be too low to see out the window easily.
Radian Car Seat are bulky for travel (you'll want to check it) but do fold flat and provide both a five point harness (to 80 pounds) and a sturdy frame with impact protection
A traditional backless booster seat, like the popular and inexpensive Graco Backless TurboBooster Car Seat or the latch installable Sunshine Kids Santa Fe Booster Seat is somewhat portable, and would be more comfortable for long car rides.
Related Links
BubbleBum
on Amazon
Disclosure: I received Bubblebum booster seat for review purposes. My opinions are always my own, and I strive to write fair and balanced reviews. If you purchase a product using a link on my site, it won't cost you more, but I'll receive a small commission. That income helps me keep DeliciousBaby going.
4 comments | Posted on January 10, 2012 |
Save to del.icio.us


Subscribe to our feed