Yesterday I posted an exhaustive post about how to choose a booster seat. Admittedly, it's a lot of work to scour all the resources I listed and pick the best carseat for your family. With three kids age 2, 5, and 6, I've bought my fair share of carseats, and I thought I'd share the choices I would make for different situations.
Best Bet Infat Seat

We used the
Graco Snugride
carseat for all three of our kids. Why? It's got a great safety track record, it's inexpensive, and you can buy a second base to keep in a second car or to use when you travel. Unlike some seats, this one also works without a base so that you don't have to carry the base when you travel.
If You Only Want to Buy One Carseat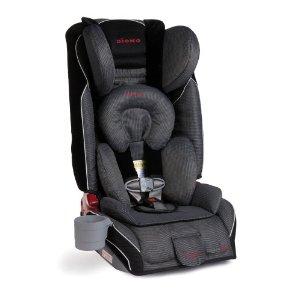 The
Diono Radian RXT Convertible Car Seat
seats kids from 5-120 pounds! This seat also has a 10 year shelf life, meaning that even with a couple of kids you can probably use it from newborn to age 8. Note that kids are positioned down low in this seat, so very young children may not be able to see out the window.
Best Carseat for Extended Rear Facing
Experts now recommend that a child be seated rear-facing as long as possible (at least until age 2). Why? Rear-facing car seats better protect the child's back, neck and spine in a crash. Car seat manufacturers haven't universally kept pace with this recommendation, and some car seats can be used rear facing until only 30 pounds. The Diono Radian RXT Convertible Car Seat
can be used rear facing until 45 pounds.
Best Carseat for 3 Across
Once again, the Diono Radian RXT Convertible Car Seat
is the winner here. It's a newer model of the seat I use in my own car. Since it's difficult to reach down and buckle a booster into the car seatbelt when there are three carseats in a row, I like that my kids will be able to use it with the 5-point harness until they weigh 80 pounds.
Best "Up High" 5 Point Harness Car Seat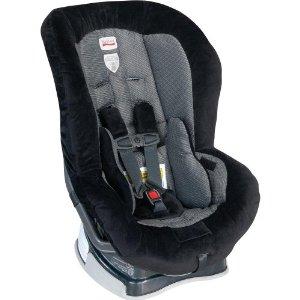 When I had only two kids and did not need to seat them three across, my kids sat in the
Britax Roundabout
. It's cozy, positions the child high enough to see out the window, and unlike it's larger siblings, is easy to install in an airplane seat.
Best Car Seat for Taxis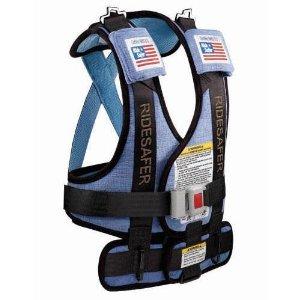 Travel presents a different set of challenges than at-home use of a carseat. And while it's true that you could lug your carseat around town, if you travel a lot, I think it's worthwhile to invest in a
Ride Safer Travel Vest
to use in Taxis and Shuttles. This is a vest, so you can put it on your child while you flag down the taxi, and then jump in and buckle up. It's lightweight enough to keep in a daypack. There are two caveats that you should be aware of: 1) since there is no "booster" your child may not be able to see out the car window and 2) the vest can be hot in a warm climate. The
Small RideSafer Car Seat Travel Vest
works for kids 30-60 pounds while the
Large RideSafer Travel Vest
works for kids 50-80 pounds. This is a great choice as a travel car seat for kids who aren't old enough for a booster.
Best Booster For Short Car Rides and Taxis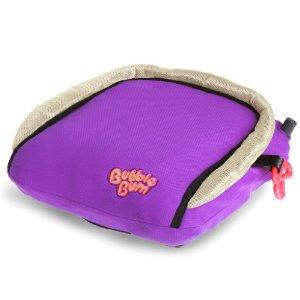 If you'll be taking using taxis and shuttles for short rides at your destination, the
BubbleBum Inflatable Booster Car Seat
is a good bet because it is lightweight, and once you've let the air out, can be carried in a daypack. It's also a good bet to keep in your trunk for carpools, but be aware that it installs differently than most boosters, meaning that you'll probably want to use it only when you can safely seat your child yourself.
Best Backless Travel Booster for Long Car Rides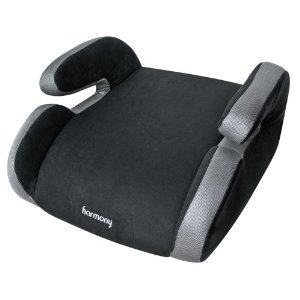 If you'll be taking a roadtrip at your destination and want a backless booster that's easy to carry aboard a plane, yet comfortable to sit in, I like the
Harmony Olympian Booster Car Seat
which is one of the few backless boosters to get high marks from the
IIHS
. At just $29, it's inexpensive enough to keep in your trunk for carpools.
Best High Backed Booster for Everyday Use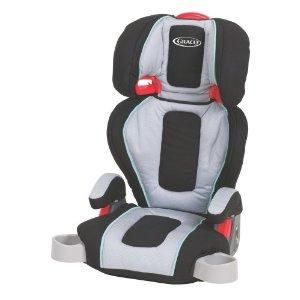 For everyday use, a high back booster offers better impact protection than a backless booster. It also gives your child a comfortable place to rest his or her head. We'll be using a seat with a 5-point harness as long as possible, but for grandparents' houses and my husband's car we chose the
Graco High Back TurboBooster Car Seat
. It' affordable, has good impact protection, and converts into a backless booster for carpools or travel. It also has a good track record, and Graco has been making this model for a long time.
Please note that I am not a certified car seat technician. These are the carseats I would (and have) purchased myself using the resources I listed in this post to make a decision. If you are purchasing a carseat, you should thoroughly research any carseat and make sure that it works well in your car and for your child.
2 comments | Posted on January 24, 2012 |
Save to del.icio.us


Subscribe to our feed