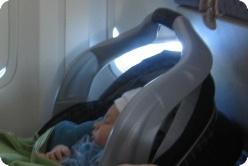 This week, I'll be publishing a series of articles about Flying with Car Seats. This article, which covers the requirements and guidelines related to flying safely with a baby, toddler or child, is the first installment!
Who Needs A Carseat On An Airplane Flight
Neither infants nor children are ever required to use a specialized child restraint onboard. However, safety experts recommend that all children be strapped in with an FAA approved 5 point harness (rear facing for infants on domestic carriers) to protect them in case of turbulence. That said, only 13 people per year die on commercial flights, versus 43,000 on the highways, so many parents feel comfortable carrying a lap infant in their arms and forgoing the car seat on board for older kids. This interesting NY Times article highlights some of the concerns and has a particularly interesting discussion of this issue in the reader comments section.
Booster seats are designed to work with a lap and shoulder belt, and therefore may not be used on a plane. Once your child has outgrown a harness seat, he or she must ride using the airplane's seatbelt. Ideally, you will still carry the seat onboard the plane with you so that it doesn't get lost or damaged in checked baggage. Consider a model that folds or has a removable back so that you can stow it in the overhead bin.
Another car seat alternative while you're on board the plane, is the Cares Safety Restraint by Kids Fly Safe
. The CARES harness weighs just one pound, is FAA approved, and fits in a 6" stuff sack. The harness is appropriate for children who are old enough to ride in a car forward facing & weigh over 22 pounds. Because the CARES harness is FAA approved, it can be used on any flight. However, some flight attendants have not seen it before, so it can be helpful to bring along the documentation in case they have any questions.
International Carriers and Car Seats
Laws vary depending on where the airline is based (review your carrier's website for details), but many European carriers do not allow rear-facing car seats at all, and do not allow infants under 6 months old to travel in a car seat. On board, your lap infant will be given a special infant seat belt that attaches to your adult belt for takeoff and landing. Once you are airborne many carriers have bassinets or special seats (Picture of Airline Baby Bed) available for infants seated in the bulkhead rows. The seats need to be reserved in advance.

Read the next posts in this series:
Part II: Checking, Renting and Carrying on a Car Seat When Flying
Part III: Airport Car Seat Carriers (Product Reviews)
Part IV: Travel Car Seat (Product Reviews)

Related Links:
Cares Safety Restraint by Kids Fly Safe

DeliciousBaby: Flying With Babies, Toddlers and Kids
USA FAA Infant and Child Restraint Rules
Australia CASA Infant and Child Restraint Requirements
CAA UK Infant and Child Safety Aircraft Laws
NY Times: The Safety Hazard on Your Lap
25 comments | Posted on February 26, 2008 |
Save to del.icio.us


Subscribe to our feed