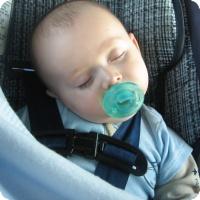 Know What You Need
In general, make sure you know the car seat laws at your destination. Car seat laws vary by state in the US. For example, a child who can ride in a booster seat in California may need a seat with a five point harness in Washington State. This Website has links to car seat laws in the US and Canada.
Checking A Car Seat
Most airlines do not consider car seats and strollers as part of your baggage allowance. (e.g. United). Other airlines do count car seats as part of the baggage allowance. For example, Southwest and Northwest allow you to check in a child safety seat or stroller as a substitute for one piece of checked baggage (i.e. it counts towards your allowance). If you plan to check your car seat (or stroller) check with your airline for their specific baggage allowance, and remember that domestic and international flights often have different baggage allowances.
Use caution when checking a car seat. Remember that advice not to use a car seat that has been in a car accident? I've always been worried about the way the seat might be handled, and the other baggage in the cargo hold shifting around during flight. I've also heard horror stories from friends who checked car seats only to have them not show up (or show up damaged) at their destination, even in a carry bag. Some parents carry their seat through the airport and then gate check it to minimize the risks (this works only for domestic flights). Other parents use the car seat onboard the flight (remember that booster seats cannot be used on-board)
Many airlines consider car seats and strollers to be "fragile items" and do not accept liability if they damage a car seat (or stroller) checked in as baggage. Be sure to find out what your specific airline's policy is before checking in your items.
If you do choose to check your car seat, you would ideally place the seat in its original packaging (which was designed to protect the seat from damage during shipping). If the packaging is not available, place the car seat in a protective bag and consider padding it well with spare clothing.
Avoid Bringing A Car Seat When You Can:
The best way to avoid lugging a car seat through the airport is to arrange things so that you don't need a car seat at your destination. We generally try not to travel with a car seat. I have extra seats at my parents house and at my husband's parent's house (it's cheaper and safer than renting) Another option is to borrow a car seat from a trusted friend at our destination. When we can, we do without a car altogether at our destination and use public transportation instead.
Renting A Car Seat
Be very careful about renting a car seat. While we've had some fine experiences renting seats from Avis and Hertz, we Learned our lesson the hard way with a rental car discounter. Since we wrote our expose (and the resulting ABC news story aired) we've heard from many parents who have had similar experiences at many different rental car agencies. If you must rent, read these Safety Tips for Renting Car Seats
Carrying On Your Car Seat
There are times when you absolutely need a car seat at your destination. In those cases, your best bet is to carry your car seat on board.
Not all flight attendants are equally well versed in the minutia of car seat installation and airline policy, so it can be helpful to bring along a printed copy of the airline's regulations and to make sure that your car seat is clearly marked as "FAA Approved."
Here are a couple of points to remember: Car seats are not allowed in exit rows. Furthermore, many flight attendants will require that the seat be installed in the window seat (so that it doesn't block anyone who needs to exit in an emergency), but individual airline policies vary. If you want to install the seat in the middle or aisle, be prepared to move the seat or to make a polite but firm case for keeping it where it is (and to back up your case with the appropriate documentation). Many parents have also reported flight attendants questioning a rear-facing installation (and some business class seats do not accommodate rear-facing installations). We recommend bringing along the car seat manual to help address any questions or issues that might arise.
Our next post in this series will discuss carriers that help you get your car seat through the airport, and our fourth post will cover Travel Carseats. Over the coming weeks, we'll also be posting some more detailed reviews and great giveaways, so be sure to check back!
Read the other posts in this series:
Part I: Which Babies, Toddlers and Kids Need a Car Seat Onboard A Plane
Part III: Airport Car Seat Carriers (Product Reviews)
Part IV: Travel Car Seat (Product Reviews)
Related Links:
DeliciousBaby: Flying With Babies, Toddlers and Kids
USA FAA Infant and Child Restraint Rules
Australia CASA Infant and Child Restraint Requirements
CAA UK Infant and Child Safety Aircraft Laws
8 comments | Posted on February 27, 2008 |
Save to del.icio.us


Subscribe to our feed