We paid our own way at each of the businesses described in the post. None of the businesses knew that I would be blogging about my experiences. Whenever I accept a free product or service for review, I will always let you know.
When most people think about the Napa Valley, they think about a very grown up vacation in the heart of California's Wine Country. Winery visits, gourmet meals, and spa visits are the usual agenda. This area is beautiful, and it seems like a shame to pass it up just because we have kids along, so our challenge was to find ways to enjoy Napa as a family.
We try to start each day with something that is sure to be fun for the kids. Letting them run off steam means that they're more likely to cooperate as we cajole them through our favorite activities. So after breakfast we walked to a local playground and let the kids run of some steam. We've been lucky to have sunny, warm weather in Napa - a huge contrast to what we would expect in Seattle during winter and being able to sit outside feels like a vacation in itself.
Once the kids had fully explored the play equipment, we were off to a winery for more grown-up centered fun. We chose Ceja Vineyards for its close-in location and good reputation as a family-run winery. As it turns out, the kids had a better time at the winery than we did. My husband felt like he was coming down with a cold, and decided not to taste, and because I'm still nursing, I had just a few sips of each glass. What we hadn't realized was that Ceja has a lovely Bocce Ball Court behind the wine tasting room. The kids had never seen one before, and they loved rolling the balls, changing the score counter, and running in the sun. We literally had to carry them away when we were done wine tasting.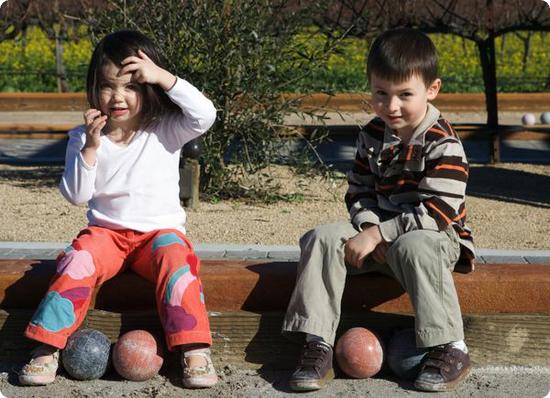 The typical Wine Country vacation includes one amazing meal after another. By the end of a weekend, you feel like you have been dredged in butter! We knew we couldn't drag the kids through dinner at the French Laundry or one of the area's other famed restaurants, so I spent some extra effort to search out meals that we would all enjoy. We landed at Bouchon Bakery in Yountville (just north of Napa).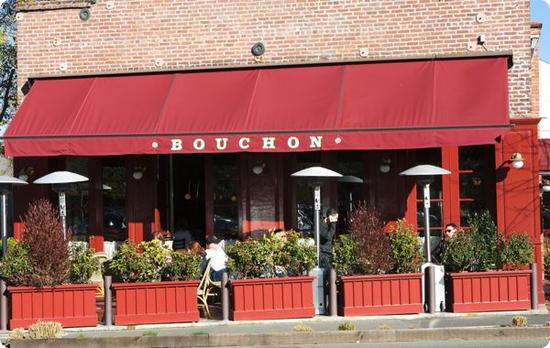 Bouchon Bakery is run by Thomas Keller and supplies bread to both Bouchon Bistro and the famed French Laundry. We ordered sandwiches (made on absolutely amazing bread) and sat in the sunshine at patio tables. We ate slowly, watched the birds, and were so much more relaxed than we would have been during a multi-course meal at Bouchon Bistro next door.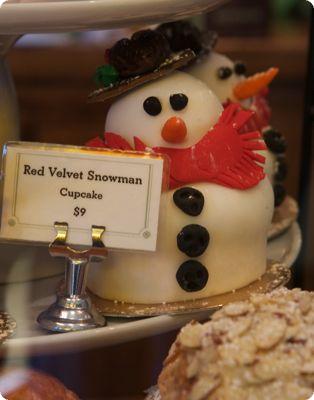 After lunch we went inside and picked out a selection of the restaurant's famous pastries to share.
The day's only nod to the fact that it is the middle of winter was the cute snowman cupcake D selected. Yes, a $9 cupcake. I felt like I was in Manhattan, but it is oh-so-hard to imagine saying no to a 3 year old who has just seen the cutest cupcake in the entire universe. It almost seemed a shame to cut it open and eat the moist red-velvet cupcake inside. Believe me, though, D did not shed a tear as she gobbled up the rich, red cake.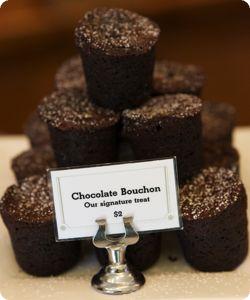 I'm more of a traditionalist, though, so I chose the signature "Chocolate Bouchon." I still need to set aside time to try the recipe. It's a good thing that I'm not planning to have another child - I'd have to name him or her Bouchon. These were that good. I stocked up on a few other sweets to take with me - there's no reason I can't skip dessert at the restaurant tonight and enjoy Chocolate Bouchons instead!
We spent the rest of the afternoon exploring, snacking and relaxing, which is exactly what I would have been doing if we didn't have kids along (although there probably would have been more alcohol without the kids).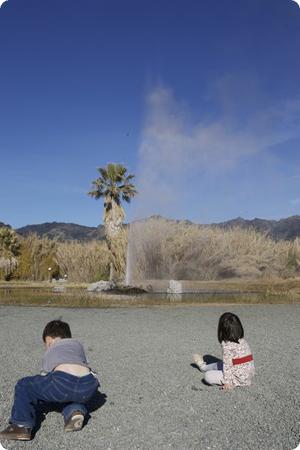 The next morning, before heading out to the coast, we visited the Old Faithful Geyser. The kids were absolutely fascinated the first few times hot water spurted out of the ground, but really this was just another glorified reason to be outside in the sunshine.
E and D really lost themselves in the opportunity to play in the pebbles. Sometimes I forget how little it takes to keep preschoolers happy and entertained - why don't they have a rockpile at every airport!
And we rounded out the outing by feeding the goats.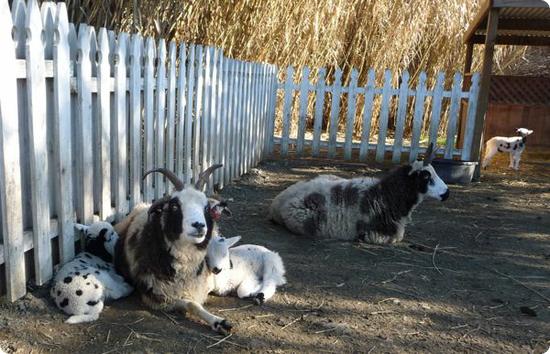 Check back to find out how we fared with the next stop on our road trip - beach cottages in a small town along the cold Northern California Coast.
Related Links:
Napa With Kids Day 1: Downtown Napa With Kids
City Guide: Napa With Kids
10 comments | Posted on February 17, 2010 |

Save to del.icio.us



Subscribe to our feed