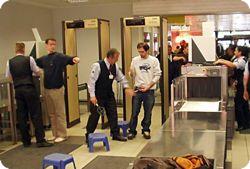 This article was updated in November 2011 to reflect changes in TSA Airport Security Checkpoint Policy
With four people, eight shoes, two laptops, a stroller, a sling, a slew of small electronics, and a bag of cosmetics we have to be super organized to get through airport security quickly and without a lot of drama. The process always feels like a bit of a workout, but we have streamlined the process over time. Here are our best tips for getting through airport security like a pro with your kids.
Choose your carryon carefully
A ziptop tote with a few pockets to help keep things organized works well, backpacks work great too. If you don't need to carry a laptop, the Baby Sherpa Diaper Backpack or the Okkatots Travel Baby Depot Backpack works well, and we love all the pockets and the insulated area perfect for carrying perishable food or milk.
Make Your Carryon Easy to Re-Pack


Liquids need to be removed and inspected at the security checkpoint. You'll save time and drama if you pack liquids in an exterior pocket or at the top of your bag. When possible empty sippy cups and bottles before the security checkpoint.
Remember that snacks need to conform to the liquid rules too. Babyfood is allowed in "reasonable amounts," but remember that it is up to the TSA officer to determine how much baby food is reasonable.
Your laptop should be easy to remove and replace. Ideally your carryon bag has a separate laptop pocket or is "checkpoint friendly."
Be sure that your stroller folds easily, and that there is nothing in the basket or on the handles that makes it difficult to fold.
Inspect your child's carryon if they've packed themselves. They should not have any liquids or toy weapons.
Have as few loose items as possible. Each loose item is something extra to deal with & risks getting lost or left behind
Put one person in charge of air tickets and IDs (no, the kids don't need identification). Documentation and IDs should be in an easy-to-get-to pocket

Dress yourself & kids for success


Adults should wear socks and slide on shoes
Remove your jackets before security
Nobody should wear a belt. Avoid hair accessories that have a lot of metal in them.
Empty your pockets and your kids pockets before security and keep everything in your carryon if possible

Get in the Family Line
Family Lanes often allow parents and young kids to bypass the longest part of the security line (before the ID check). After your bags have gone through the X-Ray there are sometimes extra staff members to help you gather your belongings. At an airport with multiple security checkpoints, it's worthwhile to ask which one has a family lane.
No Family Lane? Ask Whether You Can Use the Express Lane
Express lines are usually reserved for frequent travelers, but if the line is clear, ask whether you can go through with your kids. Often a kind agent will let you go through. If not, watch to see which line is moving most quickly.
Wait in Line Without Meltdowns


One parent should wait in line while the other takes the kids to the front and shows them exactly what is happening. Explain that everything is going through the x-ray and that the kids will get everything back. With older kids, this is the time to make sure they know it's not ok to joke about bombs or guns. The parent waiting in line can scope out which security checkpoint is running fastest.
Once you're back together, remove jackets before reaching the security checkpoint

Give Your Kids a Job
Got older kids? Put them in charge of grabbing bins (and stowing them after you've gone through the checkpoint and gathered your belongings) Have them put their own carryon bags up on the conveyor belt first, and keep those bins moving along until they reach the x-ray. Grab Your Bins
Grab a stack of bins and start loading everything up. Don't be afraid to grab extra, it's easier to pass back extra bins than it is to get more. Shoes, Jackets, and anything else you'll need first goes in the first bin. Keep valuables close until you are ready to pass through security.
Set Your Child Free Last
If you're using a stroller, keep your child in it as long as possible & collapse the stroller last.
Remove Baby From The Sling
Technically you are allowed to keep your baby in a sling as you pass through the metal detector, but if you do, you'll be required to undergo a pat-down. It's probably easier to remove baby from the sling. Note that TSA agents are not allowed to hold baby as you gather your sling and belongings, but there's no reason that you cannot ask another passenger for help.
Ask for Help


Anything too big to fit easily through the x-ray (e.g. a car seat) can be hand inspected. There's no need to try to disassemble things.
Don't be afraid to ask for help gathering your items or lifting heavy items. There are often extra agents available to assist those who need it.

Step Aside and Regroup
At many airports, families can use the "additional screening" area or nearby benches to repack their belongings. When that's not available, get your kids in the stroller or sling first so that you can focus on re-packing.
It is ok to bribe (your kids)
This is something you'll do rarely, a sticker or treat on the other side of security can go a long way towards making this and future trips smoother. At some airports, TSA even provides the stickers.
Related Links:
TSA's Guide to Traveling With Children
DeliciousBaby: Packing an Airplane Carryon for Babies, Toddlers and Kids
DeliciousBaby: Tips for Bringing Baby Food and Formula Through Airport Security
DeliciousBaby: Flying with Babies, Toddlers & Kids
7 comments | Posted on March 16, 2008 |

Save to del.icio.us



Subscribe to our feed