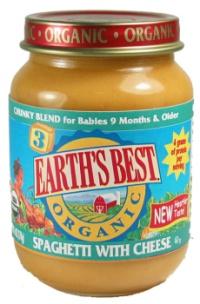 I normally post a link roundup on Friday, but this week's story about TSA confiscating baby food and formula is worthy of an extended post.
The New York Times ran an article called Bringing Along Baby Food? Not Too Much, Rules Say about parents who planned to carry on enough baby food and formula to accommodate any winter flight delays (remember neither baby food nor formula is available once you've cleared security). A portion of the food and formula was confiscated by a zealous TSA agent who deemed that they had "more than a reasonable amount."
It is difficult to understand who was served by TSA second guessing a parent's best judgment about how much food to pack for their child. As a traveling parent, I've learned to plan for contingencies like weather delays, a jar of baby food that seems off, opening a usual favorite only to have baby reject it, etc etc etc. Packing enough food and diapers is hardly an exact science, and one tends to err on the side of excess because the consequences of having too little are so terrible. Do we really want individual TSA agents deciding how much each child should eat?
I empathize with these poor parents, and hope that the TSA responds with more specific guidelines for parents and agents. I have my own uncomfortable memories of travelling 8 months pregnant (with D) from Paris to Seattle, alone, with 16 month old E and having an over-zealous British Airways agent question everything in my carryon down to the number of diapers. I'm generally of the opinion that you don't argue with flight attendants, security agents, or anyone in a position of power at the airport, but you can imagine that I would be willing to miss a flight if I couldn't bring along enough food or diapers to keep my kids well fed and clean.
Furthermore, I've never understood why diapers, baby food and formula aren't for sale in the airport shops. It seems like parents would pay a pretty penny for any of those items at the critical moment.
All that said, the reality is it's best to avoid the discussion in the first place, and that means a little clever packing when it comes to baby food and formula.
Tips for Travelling Parents:

Bring Rice cereal or baby oatmeal (powdered). We use a airtight Lock & Lock container to keep it from invading the rest of our stuff (by the way, these containers are IDEAL for crackers and toddler snacks too). It can be mixed with water or stirred into babyfood to make it more substantial.
Pack a Banana, you can easily mash it with a fork
Buy yogurt after security. It can be difficult to find plain yogurt, but you can avoid most of the sugar by not mixing in all the fruit at the bottom.
We like powdered formula in individual serving sizes. I continue to carry it even now that both kids drink milk since milk isn't available onboard many flights.
Finger foods are a great choice as baby begins to be able to eat them. Puffed rice, bread slices, crackers, O's and freeze dried fruit all travel well and are healthy choices.
Some airlines do carry baby food (call ahead to find out), but there's no guarantee that there will be enough on your flight & the baby food I've seen has been low quality canned food.
References and Related Links:
TSA: Traveling with Children
NY Times: Bringing Along Baby Food? Not Too Much, Rules Say
Packing An Airplane Carryon for Babies, Toddlers and Kids

8 comments | Posted on February 23, 2008 |

Save to del.icio.us



Subscribe to our feed