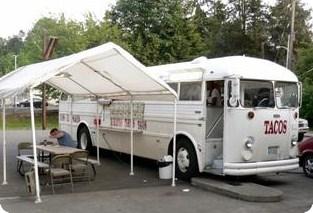 We're home for the next few weeks (and then headed to visit family in San Diego and LA), and I feel like we're all getting in a little bit of a rut. This weekend, in between errands with E, I realized that we had the perfect outing right here at home.
Frequent readers know that E has never met a bus (or train) that he didn't love. They also know that he's a picky eater (which just about kills me because food is one of the great joys in my life) and I'll try almost anything to get him interested in something new. Sooo… I decided to take him to the Taco Bus. "Taco Bus?" my friend asked when I told her. Don't you mean "taco truck" No. I mean bus.
If you live in California, you've seen taco trucks parked in gas stations, by the side of the road, in empty lots, and in general wherever they can reliably find space. The food is cheap, authentic, and delicious, and luckily for us the trucks have just recently started to migrate their way up the coast to Seattle. Seattle's taco bus, though, is unusual. Instead of putting a kitchen into a van and letting people eat under an awning or in their cars, the folks at Tacos el Asadero converted the back of an old bus into a kitchen, and put seating in the front. There's a covered awning outside for those who like space to move, but for E the eating on the bus was the only way to go.
This was a real adventure from start to finish. I had E help me order in Spanish. He even volunteered to try a taco, but looked puzzled when it arrived and finally ended up removing the filling and eating just the tortillas and a plate of rice. Still, he's never been willing to eat a tortilla before (and won't touch quesadillas, the typical toddler staple)
E took it all in as other (presumably Mexican) parents brought their kids who devoured a variety of dishes he'd never seen before. He made up a song about how not being willing to eat a tamale, and he loved that we could get up and leave as soon as he was done eating. I came close to making a huge mistake in the parking lot. Typically when he won't put on his seatbelt, I tell him "the car can't move until your seatbelt is on." This time I said "is that because you want to stay here and not go anywhere else." His face lit up, and he said "I want more taco bus." Luckily I was able to divert his attention to calling his grandparents and telling them about his adventure.
Tacos el Asadero
3513 Rainier Ave S, no phone
10 am-10 pm every day
Photo from
LosTacoTrucks.com
References:
Tacos el Asadero review on LosTacoTrucks.com
2 comments | Posted on December 3, 2007 |

Save to del.icio.us



Subscribe to our feed