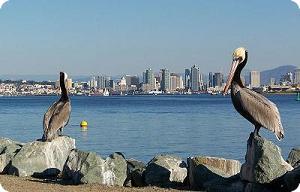 This afternoon we picked E up from school, rushed him through a snack at home, and then we were off to the airport. Not suprisingly (in retrospect) he had a huge amount of anxiety about leaving today. We hadn't given him enough time at home, and we didn't let him mentally change gears by having him pack a little carry-on bag like we usually do. He was super attached to daddy, not willing to let him out of his sight, wanted to ride in mommy's car instead of the car service, and halfway to the airport he asked to go back home. We worried that things might get worse at the airport.
Luckily, E switched into full travel mode once we arrived at the airport, and the fact that we'd been on a plane just a month and a half ago meant that he knew exactly what to do at each stage in the game. Things went about as smoothly as we could hope for, but with two laptops, eight pair of shoes, two photo ids, and one bag of liquids, there's a certain amount of insane juggling that's unavoidable. Still, E knew to take off his shoes and put his blanket in a bin, an achievement in itself.
We arrived early enough to grab a quick bite and let the kids play in the cool playground inside the Seattle Airport (SEA-TAC), and then we were off for our flight. It's been a while since we've flown on Alaska, and I was disappointed to learn that with their changeover to no meal service they've also discontinued milk as a drink option. Add one more thing to pick up after security from now on. After all the excitement of getting through the airport, both kids drifted off during takeoff and woke up just before landing! Woohoo!
We had an interesting experience with our rental car. We usually stick to the major rental car companies, not wanting to hassle with off-airport agencies However, at San Diego Airport, all rental car agencies are off-airport, so we decided to try one of the more reputable discounters, Advantage, which turned out to be about ½ the cost of Avis. Indeed, the service was great: the van showed up quickly, service was super friendly, and they offered us a car that was only a couple months old. The car seat situation, however, was utterly insane. With Avis and Hertz, we've generally arrived to find a clean, newish car seat installed by a trained employee that's ready to go. In contrast, at Advantage, my husband was led into a storage room where a scrapheap of car seats awaited him. Most were disgustingly dirty, with dark stains on them, cracker remains, etc. Several were missing parts and didn't function properly. Where did they get these car seats? The land fill? He selected two of the better looking seats, and we brought them out to the car. After installing one, we noticed it was broken and had to swap it out. Tomorrow, we'll give them another once-over, but I doubt we'll chance a discounter again.
Next stop: The Pacific Terrace Hotel. It's a waterfront hotel in Pacific Beach. We had booked a standard (read cheap and smallish) room. When we booked, the next category of room (ocean view) was about $80/night more than the standard room. As we always do, we asked about upgrades when we checked in. The price of the upgrade had dropped to $30/night, so we took it. The room is great, newly renovated, there's lots of space, and it overlooks a beautiful pool and the Pacific Ocean. We did a little bit of remedial baby proofing before putting the kids to bed, and we'll do a little more tomorrow so that the kids can play without us having to watch them likes hawks.
Related Links:
San Diego Family Travel Guide
Pacific Terrace Hotel
Tips for Air Flights with Kids
Choosing a Kid Friendly Hotel
1 comment | Posted on December 17, 2007 |

Save to del.icio.us



Subscribe to our feed