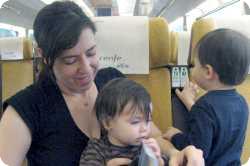 For the past several days in Sevilla, E has been literally begging to go on a train, funicular, gondola or a bus. Of course, the tourist destinations in Sevilla are close enough together that it hasn't made sense for us to try a bus, and there is no subway. To make matters worse, the government is in the process of testing a new light rail service through the central shopping area, but not allowing passengers yet (the grand opening was Oct 28, well after our departure). E was almost in tears each time one of the light rail trains passed by and we explained over and over that only the conductor was allowed on board.
After all that anxiety, you can imagine that he was delighted to hear that we'd be taking a long train trip from Sevilla to Madrid. Back when I last visited Spain, the trip from Sevilla to Madrid was very long and somewhat boring. Today, with the AVE high speed train it takes only 2 1/2 hours, and could even be done as a day trip! The trains themselves are new and really quite nice, with seating in groups of four, tables, trash compartments, and separate dining cars.
Because trains run hourly, we were able to get ourselves to the station on the kids schedule and then purchase tickets rather than rushing the kids to conform to a pre-set schedule. Even better, the fact that all our luggage stayed with us meant that I didn't have to pack a separate carryon or plan ahead for lost luggage. While we waited for our train, we grabbed a snack and the kids checked out a small toy store located in the station.
The soothing motion of the (168 mile per hour) train ride proved too much for D and she drifted off to sleep after exploring our seat area. E, however, could not possibly have been more delighted and spent most of the 2 1/2 hour ride in the dining car with daddy or walking back and forth between the automatic doors that separated the cars. Luckily the other passengers seemed to love him and didn't mind all the walking back and forth. The ride was so much more pleasant for everyone than an airplane ride, with lots of space to move around, different areas to explore, and no takeoff and landing to contend with.
Once we arrived in Madrid, it was an easy subway ride from the train station to our hotel and we were able to get settled in quickly and get out to explore the city!
References

Sevilla Light Rail
Madrid To Sevilla AVE High Speed Train
Train Travel with Babies, Toddlers, and Kids
Madrid Family Travel for Kids, Babies and Toddlers
Seville Family Travel for Kids, Babies and Toddlers
0 comments | Posted on November 4, 2007 |

Save to del.icio.us



Subscribe to our feed