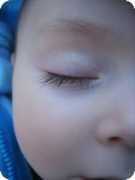 While we're not big fans of using a sedative to get our kids to sleep on a plane, especially in light of the recent
warnings,
so we've gotten pretty sophisticated in our tactics for getting our baby and toddler to nap on the plane. Here are our top tips:
Schedule flights at nap time or bedtime, and make sure that your kids get plenty of physical activity before the flight. Many airports have a play area (ask a gate agent) but if yours doesn't you can often find a lightly used gate for them to run around.
Seat your child in the window seat where there will be less distraction from passing flight attendants and passengers. Once you takeoff, close the window shade and turn off the overhead lights.
A full tummy makes everyone drowsy. Take some time after clearing security to make sure that your child is well fed, preferably with lots of protein and not very much sugar.
Takeoff is the easiest time to get your child to sleep as there's little activity in the cabin and the soothing engine noise is at its loudest.
We go through as much of our sleep routine as possible, including putting on Pajamas, reading books, and singing quietly or giving them earbuds and an mp3 player loaded with calm music. (I figure my neighbors would rather hear quiet singing than loud crying.) We tell the kids that it's going to be a long, boring flight and its best to go to sleep, so that they understand what we're expecting.
A sippy full of milk will not only help clear your child's ears during takeoff, but milk also has a mild sedative effect (as does sucking on a sippy or bottle. Of course it's no secret that breastfeeding, especially with a cover, super effective at inducing sleep.
References:
NY Times: These Drugs Are for Colds, Not Fidgets
Times Online: Mothers who drug their babies on flights
Tips for Flying with Babies, Toddlers, and Children
23 comments | Posted on November 19, 2007 |

Save to del.icio.us



Subscribe to our feed