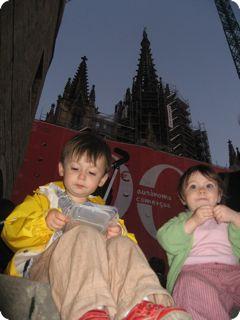 We had such a rough flight in, and everyone was so exhausted, that I didn't have the heart to get everyone up first thing in the morning like I normally do. I know I'll pay for this later, but at some point, it's more important to function at all than to get on schedule.
There are always a thousand little logistical things to do on the first day in any new city, and with the kids we need to work those chores in with some fun activities. Today we did a little exploring to get the lay of the land, beginning with a walk down Las Ramblas.
I hadn't planned to walk on Las Ramblas, it's crowded, touristy, and not particularly Spanish, but it was the quickest way to get where we needed to be. Through the eyes of the kids, though, Las Ramblas turned out to be fun. The kids liked all the people dressed up as different characters, and were absolutely delighted by the vendors selling different pets as we got closer to Placa Catalunya. We saw baby ducklings, turtles, chickens and lots and lots of birds.
My Spanish is beginning to come back to me (at least the phrases needed to get me through a shopping transactions and meals) and it was cute to notice E repeating "Hola" as we held the door open for some other residents at our apartment. This is the first trip where he's old enough to pick up any of the local language, and it will be interesting to see what he does as he begins to interact with other kids and adults over the next couple of weeks.
After nap time, we took the kids out to do two last errands, a trip to the grocery store and a stop at the Vodaphone store to get Spanish simm cards for our cell phones. The simm cards turned out to be a breeze, when we got them in Italy it was an extended process requiring lots of government documentation, passports, etc. Here we walked in and paid 25 euro for each card, got instructions, and were off to the races with our new Spanish cell phone numbers!
The grocery store, on the other hand, was a train wreck. The small, neighborhood store that we chose was jam-packed with products. The aisles were so small that the cart was always in reach of the items on both sides and the kids delighted at grabbing anything they could (something they hadn't really figured out at home) and either toppling it or putting it in the cart. To make matters worse, anything and everything was at toddler level, from glass bottles to rat poison. We were embarrased to have the kids so completely out of control, especially as Americans travelling abroad. From now on, one of us will go in while the other plays outside with the kids.
Back at the apartment, we're going to bed early with no idea how interrupted our nighttime sleep will be as the kids adjust to their new meal and sleep schedule.
Related Links:
Baby Proofing a Hotel or Vacation Rental
Jetlag and Babies, Toddlers, and Kids
0 comments | Posted on October 4, 2007 |

Save to del.icio.us



Subscribe to our feed