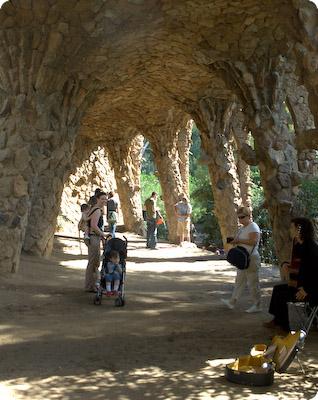 Our sleep situation is not good. We've been so tired that we've been lax about getting the kids up and going in the morning, and this is coming back to haunt us at nighttime. E is sleeping through the night now, thankfully, but D (who has never been a fantastic sleeper) is having a really tough time both with waking up, and with settling back down to sleep. She's cutting a tooth, and taking her first independent steps, so her sleep would probably be pretty poor even if we are at home, but this is way beyond the normal range for her, and we're all exhausted.
As tired as we are, we have been having fun during the day. We've enjoyed some great activities, and our days are beginning to fall into more of a regular pattern.
We took the kids to the Aquarium, which turned out to be great. The Barcelona Aquarium is considered to be among the best in the world, and it certainly was great for toddlers and little kids. Most of the tanks went all the way down to the floor, making them easy to view, and the kids absolutely love being able to get so close to the fish. There was a long underwater tunnel through a huge tank of sharks, fish and man-rays. It's hard to imagine anything a toddler would love more, and baby D found it so soothing she almost fell asleep. Best of all, there was a great play area! While it didn't exactly meet its goal of getting kids to learn more about water, they did love having a space to play freely with other kids. Between the heat, the crowds, and not knowing where the best play areas are, it's been hard for us to let them do that.
We also took the kids to Park Güell, Antonio Gaudi's fanciful park at the edge of town. We're pretty sure that E liked the Bus and Train we took to get there at least as much as the park itself, but he seemed fascinated with the mosaics, the bridges, and the tunnels. The kids were pretty worn out, and it's hard to cover much ground with them in tow, so we'll probably make a return visit to see more.
We've also been discovering the music that seems to lie around every corner here. We enjoyed beautiful Persian Sitar music at Park Güell, traditional Catalan dancing, and of course lots and lots of guitar. The music gives us all a quick break as E usually wants to sit still and listen, while D is enthralled with watching how the instruments are played.
Tomorrow we'll take the kids up to Montjuic Mountain via a funicular. There's some great open space up there, and we hope to wear them out before nap. We also want to visit the Miro museum, and we hope we'll succeed in making it fun for the kids.
Related Links
Sightseeing with Babies, Toddlers and Kids
0 comments | Posted on October 7, 2007 |

Save to del.icio.us



Subscribe to our feed