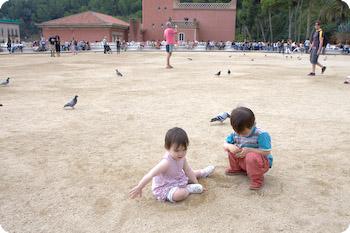 The kids seem to be tired of eating in restaurants, so today seemed like the perfect day to put together a picnic lunch. We're staying near the Boqueria, Barcelona's main market, so our first stop was to pick up food. We headed to an olive stand first, where E (who loves any type of olive) got to choose whatever he wanted from a huge display of olives. Next we picked up some cheese, some fresh fruit (and coconut) and water.
Normally, we'd pick up some bread and Jamon Serrano too, but just a few doors down from the Boqueria is the best sandwich place in Barcelona (and according to Mark Bittman of the New York Times, the best sandwich he's ever eaten). That's high praise, so we picked up a couple of their delicious sandwiches to go.
We knew that we wanted to revisit Parc Guell, Gaudi's famous and eccentric park on the edge of Barcelona, a second time. So, even though it looked like rain, we too the metro up and wandered a bit in the park looking for a sheltered spot for lunch. We ended up finding a bench next to a playground, the kids were delighted! E ended up kicking a ball and playing in the sand with little boy from Manchester. After being away from school, and the "Chickadee Classroom," he was absolutely delighted to have a playmate. He alternated between eating and playing for over an hour. D, true to form, chowed down first, soothing her sore gums on the cut coconut and devouring a portion of my sandwich, and then joined in the action. We all had a great time.
After lunch we walked down through the park, seeing what we'd missed before, and took the train back. E continues to love the tile mosaics, and I plan to pick up a glue stick so that he can make his own with some of the construction paper we brought along.
Baby D was so tired that she fell asleep in the sling on the way out. We took the metro to the El Borne neighborhood and once E went to sleep in the stroller, we had a little bit of grown up time and a gelato.
Links:
Planning A Vacation Day
Kids Meals and Snacks when Travelling
4 comments | Posted on October 8, 2007 |

Save to del.icio.us



Subscribe to our feed