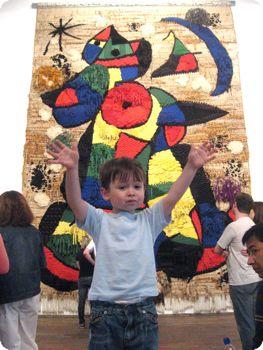 While it's fun to take the kids to the aquarium and the park, we also want to see some of the artwork and cultural attractions Spain has to offer. I've loved modern art since my teen years, and I'm anxious to pass that appreciation on to my kids. So, not surprisingly, it's important to me to find ways to enjoy art museums with our kids.
Today, we visited the Fundació Joan Miró, which is located on a hill on the edge of town called Montuic. We knew that the trip there would be popular with the kids -- both are obsessed with public transportation -- because it involved both the metro and a funicular, but we weren't sure about the museum itself or the line to get in!
It turns out that we shouldn't have worried. While Spaniards don't automatically send parents with strollers to the front of the line like the French do, they're more than happy to accommodate you if you ask, and we bought an ArtTicket pass, which gets us admission to the other major museums without waiting in line.
Before we entered, we talked with E about the museum, telling him that we were going to see some paintings and sculptures made by a man named Joan Miró, and that they would be looking, not touching, the art.
The first exhibit, a brilliant mercury fountain (enclosed of course) by Calder had the kids (and us) entranced, and started us off on the right foot.
Once we were in the main museum, we told E that Miró used his imagination to make up different animals and that he would have to guess what they were. E loved the game! Of course to him, each of the "animals" was obvious and he loved that we always agreed with what he said. We also talked about which things were his favorite, looked for the moon and stars (favorite symbols for toddlers). Baby D seemed entranced with all the sculptures and bright paintings. And why wouldn't she be… like her brother, she loves looking at picture books. These paintings must have seemed especially large and engaging in comparison. The fun lasted through the entire first floor (with E wanting to stop and look at several paintings a little longer!), until we took a glass elevator to the top floor.
Not surprisingly, the cool elevator trumped anything the second floor might have to offer. Wanting to keep the experience positive so that we'd start future museum visits on the right foot, we took turns riding the elevator with D & E while the other parent visited the second floor and basement exhibits.
Had we chosen to visit on a weekend (we decided to avoid the crowds) the Miró museum, like many museums, has a kids program that looked fun and engaging, even though it would be in Catalan. Perhaps as the kids get older, we'll have them join in on activities like this.
We wound up the visit with a stop in a café and the museum shop (where E chose some markers and a pad of paper to make his own abstract art) before taking a gondola up to a castle at the top of Montjuc. All in all, I'd call this one of our best days in Barcelona. Everyone had a wonderful time and the kids seemed thoroughly satisfied before they both drifted off for naps.
Later this week, we'll visit MACBA, Barcelona's modern art museum, which we hope will be even more fun!
Related Links:
Fundació Juah Miró
Mercury Fountain
Visiting Museums with Children
0 comments | Posted on October 10, 2007 |

Save to del.icio.us



Subscribe to our feed