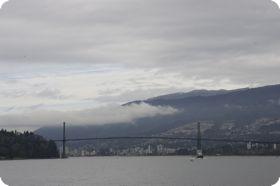 We woke up to super cold weather and snow, so I decided to forgo a last gondola ride and take the kids to the Whistler Public Library. The Library is housed in a beautiful, light-filled new building and has a wonderful collection of children's books. Even better, there was a story hour during our visit, and the kids loved the special children's story room with comfy cubes to sit on, the relaxed atmosphere and the stories and singing. What a welcome break from the cold weather!
We also stopped by Expressions Art Studio to pick up the tiles the kids had painted the day before. I expected E to be delighted with his, but I was surprised that D so clearly remembered her tile and was so excited to see and hold it. It was tough work to get my kids creations out of their hands, wrapped, and safely stowed in the base of the stroller so that we could take them home without breaking them.
By now it was time to pack up and have lunch. The whole family met up for lunch at Behind The Grind. E was delighted to find packets of peanut butter and jelly on the table, so we ordered him some toast and he made his own (very messy) sandwich. D munched contentedly on avocado and other vegetables from my delicious vegetable sandwich, and P snacked on fresh baked banana bread. A great lunch before hitting the road.
We loaded up the car and kids with the hope that both kids would nap on the drive to Vancouver (about two hours). D fell asleep almost immediately, but E, as exhausted as he was after so many late evenings, did not.
We passed the time in the car making up stories. We make up a few sentences and then let him fill in some of the details. For example "One morning, E woke up and heard a knock on the door, he opened it to find..." It is always fun to hear what he says and storytelling also builds a variety of skills around story telling, creativity and verbal expression. Car rides are (unfortunately) one of the few times we make time to do this with him, so it always feels like a special treat for all of us.
When we tired of storytelling, I taught E a few Passover songs and gave him a Train Sticker Book
to play with. These books are one of my favorite travel toys, and I keep a stash of sticker books with different themes at home so that they're easy to grab when we head on a trip. Each book comes packed with reusable stickers and a small laminated scene to stick them on. The stickers are durable enough to use a few times, and they are also easily removed from windows, airplane tray tables, and other places that stickers aren't usually allowed. Best of all, they're inexpensive and small enough to fit neatly in my purse or the diaper bag.
This was the first long drive we've done with E awake. And while it probably helped that he was tired, we were surprised at how smoothly it went.
We stopped at Vancouver's Granville Island and unloaded the kids. This popular tourist destination is great fun for kids. There's a "Kids Market" filled with activities and stores for kids, a really great playground, a pond with ducks, and best of all a model train museum. During the summer, there's also a free water park to play in. When the family gets hungry, the Farmer's Market has a variety of different takeaway options or you can head to the popular and casual Go Fish for fish and chips or any of their more grown up fresh fish dishes.
We let the kids run off some steam in the playground and play with a train set in one of the toy stores and then grabbed a quick dinner before hitting the road. Both kids slept soundly and we returned home to some of the coldest April Seattle weather on record and the first April snowfall since 1972! So much for the idea that getting away from home was the only way to get the kids one last snow day before Summer.
Related Links:
Vancouver With Kids
Whistler With Kids
A Day on Your Family Vacation

0 comments | Posted on April 24, 2008 |

Save to del.icio.us



Subscribe to our feed