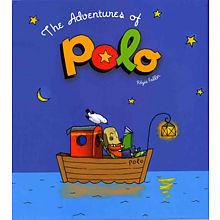 I love reading to my kids, and part of what keeps it fun for me (especially after the 200th reading) is finding books that I think are interesting and engaging too. I often buy children's books that are either about travel itself or about a different place or lifestyle that I want to expose the kids to, and I thought it would be fun to start sharing some of those book choices here.
This is a book from my personal collection. From time to time, I might choose to review a book that a publisher has offered me, but I will always let you know when that happens. Frankly, I have an embarrassingly large collection of travel related books for kids, so I can keep this feature going for a long time without reviewing anything I don't already own (and then there's the library). That means that when I do accept a review copy, you can expect that it caught my interest in some way.
When we took 6 month old E to Paris for the first time, I became obsessed with French children's books. I was blown away by the variety and by the beautiful illustrations, but what really worked for me (as a non-French speaker) was the large number of wordless book choices. The Adventures of Polo, by Regis Faller
was one of those books, and even though it was for a much older child, I secreted it away in my suitcase. (Today the book is available in English from Amazon).
The Adventures of Polo is illustrated using a comic book format, and "readers" follow Polo on a wild adventure that begins at his treehouse in the middle of the ocean, and winds its way through the clouds, a meeting with the "Queen of Sea," a trip into outer space, and finally back home again where he sits quietly reading his journal and remembering all the friends he made on the way.
What I love about this book (besides the unadulterated spirit of adventure) is the ingenuity and creativity with which Polo handles every unexpected situation. Submarine crashed into a glacier? Head to the surface and chisel a new boat out of another glacier. Stuck on a strange planet? Find a rocket shaped mushroom and add a door and a window to turn it into a real rocket. Stuck on a volcanic island next to a lava flow? It must be time to roast hot dogs!
The Adventures of Polo is a complex story with lots of action, and it manages to be dramatic without resorting to violence (the "scariest" moment in the book is a five-frame sequence where a Polar Bear chases Polo and slips on some ice, splashing into the ocean). Still, I kept this book in storage for a long time, waiting until the day E seemed old enough to enjoy it. When I finally took it out a few months ago, it became a fast favorite with both kids. E learned pretty quickly how to follow along and re-tell the story in his own way (one of the joys of wordless books for a pre-reader) and D is absolutely fascinated by the story. This is the only book we have that I'm careful not to leave lying around... she literally cannot pass it by without asking for someone to read it to her (which is great in theory, but inconvenient when we are on our way out the door).
What do you think? Should I keep the book reviews coming? Let me know in comments.
Related Links
Amazon:
The Adventures of Polo, by Regis Faller
8 comments | Posted on August 14, 2008 |

Save to del.icio.us



Subscribe to our feed