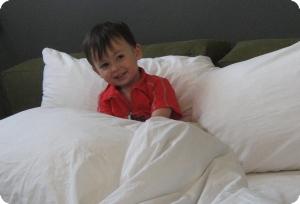 Today I've been working on booking a hotel for our trip to San Francisco. I'd claim that I waited on purpose, hoping to get the best rates, but the truth is that I'm a busy mom and a procrastinator. Lucky for me, it's also the time of year when booking late can also mean great rates.
It can be tough figuring out where to stay in a strange city, especially with kids or a small baby, but over time I've developed some tricks for finding family friendly hotels wherever I go.
1. Find Reliable Hotel Reviews
Of course the first step is to look for recommendations from sites like DeliciousBaby.com that list family friendly hotels. Too often that information is not available, especially in off-the-beaten path destinations or in countries where English is not the primary language (which is why I decided to start this site).
Next I look for reliable reviews. My favorite sources are TripAdvisor and Fodors. Watch for the code words "large rooms" and "central location" as well as general comments about the quality, cleanliness, service, and amenities.
2. Choose a Neighborhood
By this point, I usually have a longish list of hotels. The next step is to choose the area I want to stay in. My guidebook comes in handy here, and I try to pick a neighborhood that has lots to do and is centrally located. Within the neighborhood, I choose a hotel that is located close to restaurants or a retail area and close to public transportation. Ideally, it's also within walking distance of one or two activities we plan to do.
3. Get Specific about Family Friendly Features
Once I've narrowed things down to a few hotels, my next stop is the hotel website to get the specifics.
The first step is to figure out the room size, often there is a picture that gives you a sense of the size, or the square footage is part of the room description. If you're looking at hotels in Europe, you can convert easily between square meters and square feet on Google!
Type 50 square meters in square feet into the Google search box, and you'll get back one result, 50 (square meters) = 538.195521 square feet
Next look to see whether the hotel lists and "family friendly features." It's good to know what they offer, but don't get too caught up in what might more of a marketing gimmick than a well thought out plan. Figure out what resources you'll need & if you can't find information about them in the hotel description, send email to the hotel (you can generally find an email address on the website)
Here are some of the features you might choose based on your family's needs:
Adjoining rooms
Crib or Rollaway bed (don't forget to factor in any extra charges)
A suite or a separate sitting area; possibly with a kitchenette
Refrigerator (or a mini bar that lets you remove items to make space for snacks)
Room service
Babyproofing kits or babyproof rooms
A kid friendly restaurant (or a coffee shop)
Pool
Organized kids activities (mostly available at resorts, but some city hotels have cooking classes and other activities)
Babysitting
WIFI (don't forget to factor in the cost when you price hotel rooms)
Access to a laundry room
4. Consider a Bed And Breakfast in Rural Areas
Parents may assume that B&B's with their quiet atmosphere, cozy rooms, and thin walls are off limits for families. In more rural areas, where hotels are few and far between, this can really limit your vacation options. Look for B&Bs that have one or two separate cabins. The cabins often have a kitchenette and more than one room. Be sure to ask what the policy regarding children is before booking. If you have small children, you can also email the B&B in advance and ask them to remove any fragile decorative items from the room before you check in.
Related Links:
Planning Your Trip
Hotels and Vacation Rentals
DeliciousBaby City Guides
1 comment | Posted on January 21, 2008 |

Save to del.icio.us



Subscribe to our feed