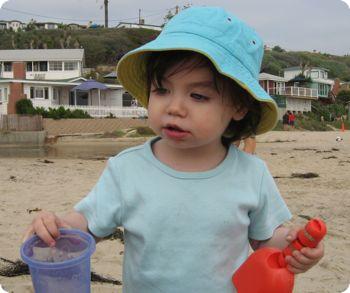 When I was in college in Orange County, California, my husband (then my boyfriend) and I often visited the secluded Crystal Cove beach. Visitors hiked through dry California landscape to reach the hidden cove, which meant that it was not as packed with beachgoers as nearby Laguna Beach. Until recently, the 3.5 mile long beach offered no amenities once you arrived. We packed in a picnic to enjoy along with the sand, calm water and occasional tidepools.
The Crystal Cove shoreline is dotted with beach cottages first built in the 1930's to 1950's. For years they became increasingly dilapidated as their lease from the state ended. Those cottages made me feel like I was taking a step back in time, and I dreaded the day they would finally be torn down to make way for the exclusive luxury resort that seemed destined for such a beautiful spot.
We took time out from a family visit last week to return to Cryatal Cove with the kids. Not suprisingly, a lot has changed since I was in college...
The land has recently been reclaimed by the state, and there is now a shuttle bus from the parking lot down to the beach. The beach is still hidden, and relatively uncrowded, even on our warm weekday afternoon visit. Our kids played happily in the sand and water, watched the gulls, and generally delighted in the warm weather and sunshine.
The biggest change is those cottages. Locals were successful in convincing the state to restore them instead of tearing them down. Today many of the 46 cottages have been painstakingly restored as guest houses for visitors. Most are rented as individual cottages to families visiting the area, but a few have been converted into dorm style accommodations. The restored Crystal Cove Beach Cottages are simple, clean, and tastefully finished. They don't have the fine linens or pampering service (in fact there is no daily housekeeping) that a luxury resort would have, but visiting families get to enjoy the true luxuries of an unspoiled beach, bedrooms for everyone, a refrigerator & microwave, and an affordable price tag. Best of all, the money is returned to the non-profit organization that runs the cottages to help restore more of the original cottages.
As dinner time neared, we headed to the cove's new restaurant, the Beachcomber Cafe. The Beachcomber is right on the beach, and has both indoor seating and covered, heated outdoor seating. The views are unbeatable. Unfortunately, it wasn't cheap (there is also an inexpnsive "Shake Shack"), and I was expecting the terrible quality, overpriced meal that usually accompanies an exclusive concession in a beautiful spot. I was delighted to be wrong. My salad and main course were both very good (though not exceptional) and I was particularly happy with the carefully thought out children's meals. D enjoyed homemade mac & cheese while E had a Nimen Ranch hot dog. Both dishes were served with cut apples and a frozen bannana dipped in chocolate for dessert. Two thumbs up to the Beachcomber for serving kids meals made out of real food instead of something out of a package.
Does all this appeal to you as much as it does to me? Crystal Cove is about 20 miles from Disneyland and would make a great day trip after a visit to the busy amusement park. Parking at the lot is $10 (wow) but the fee is waived if you eat at the Beachcomber.
If you want to stay in the cottages, plan ahead. On the first of each month, reservations open up for an entire month of available start dates, up to 7 months in advance. The cottages sell out within hours (or faster), so plan ahead. Cottages do occasionally open up due to cancellations, and it is worth calling to find out if anything is available during your stay.
Related Links
Crystal Cove Beach Cottages
3 comments | Posted on July 5, 2008 |

Save to del.icio.us



Subscribe to our feed