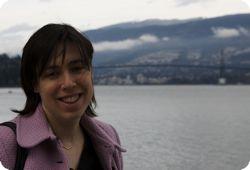 After my son was born, I started looking around for information about traveling with babies and young kids. I was surprised at how little practical advice was available. Most advice focused on things like staying at expensive hotels with childcare programs or buying lots of travel toys. The detailed, practical advice I needed (for example how to lug a carseat through the airport) was passed around mostly by word of mouth.
After I started this blog, I was disappointed that it was so difficult was to find other women who were writing about similar experiences. Most of the big travel blogs seemed to be written by young single men, and while they had wonderful stories to tell, there is an element that is missing for me. That lack of female voices and stories is surprising given that women make over 80% of household spending decisions and, according to Forbes are also "the prime movers in American travel, driving 70 percent of all leisure travel spending and 80 percent of corporate travel bookings"
At BlogHer, I met other women who blog about travel topics that impact them, topics like girl getaways, female business travel, solo travel as a woman, food related travel, and more. I also met people from bigger sites, like Uptake and sponsors like Disney, SeaWorld and HIlton, who were looking for a community of women travel bloggers and having a tough time finding it. As a starting place, I agreed to pull together a list of women who blog about travel. I hope we'll do more in the coming months to build a tighter knit community.
I hope my readers will enjoy this list too. It's a great place to find out about new writers who just might be blogging about something that really speaks to you!
Women Travel Bloggers
General Travel
Family Travel
Women's Travel
Destinations
Budget Travel
Green Travel
Food Travel
Accessibility
Candy Harrington of Barrier-Free Travel blogs about accessible travel -- travel for people with mobility disabilities, from slow walkers to wheelchair-users.
Travel Stories
63 comments | Posted on July 22, 2008 |

Save to del.icio.us



Subscribe to our feed