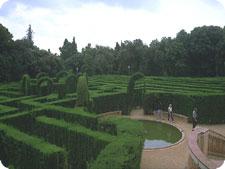 This is a guest post from Julia Fossi, a co-owner of Fish and Chips, Barcelona's first and only traditional fish and chip shop. Co-owners Julie and Julia are both young mothers who moved to Barcelona over seven years ago. They met in a local moms group and decided to start a business together. Between them they have 4 kids, 2 cats and one dog, so they are experts in finding great activities for kids in the city. In this article, Julia shares her favorite "Secret Gardens"... places where you can take a young child to run and explore in the middle of the bustling city.

Had we known about Julia and Julie's traditional Fish and Chip shop located in the Raval, we would have checked it out during our Family Vacation to Barcelona. It sounds great for young kids and picky eaters.
I want to share my favorite ideas for "Secret Gardens" to take your kids to in the heart of Barcelona.
Eixample Beach
When Cerda laid out the plans for the modern Eixample neighborhood, his idea was to create blocks that held everything the resident needed for a glorious life. Each block was to consist of a square of blocks with shops and offices on lower floors and residential apartments higher up. Each of these blocks was to have a central communal area with parks or gardens to be shared by the residents of the block. Unfortunately, in almost all of the blocks greedy owners and realtors distributed the inside 'Illas' (literally islands) and built on them. However, a few remain or have been reclaimed by the local council for communal use. My favorite, just a few blocks from Placa Catalunya called officially 'Torre de las Aiguas' and known by the locals as Eixample Beach is one of these perfect little hidden gems that visiting parents with toddlers should know about.
Called Torre de las Aiguas due to the 19th century water treatment tower in the middle, the local council has created a paddling pool around the beautiful tower that is knee deep on an adult and therefore perfect for toddlers and kids up to around age 7. Around the edges a small 'beach' has been imported with lots of shade from tree cover. Along the back wall there is a row of Victorian style changing cubicles and showers. There is something very serene about this space, perfect for a family trying to get away from city bustle with kids. It feels like a little island paradise in the middle of a thriving metropolis. The only thing missing is refreshments, so take a picnic, water wings and plenty of sun block. The quietest time of day is afternoon (around 3pm) when most Catalans have gone off for siesta. This is a great activity for kids up to about seven years old.
Torre de las Aiguas is only through the summer months, usually June through September and costs just a couple of euros per person to get in. It can be crowded between the end of June and the beginning of August and during the first two weeks of September. The entrance is tricky to spot. It has a typical red and white council name plack on the wall and it is an entrance way with a tunnel through to the other side of the buildings. Peek through and you will see the outdoor space and changing huts on the other side. Don't be afraid to ask a local for help. Address: Carrer Roger de Lluria 56, between Carrer Diputació and Consell de Cent


View Larger Map
Parc de la Creueta del Coll
My second secret garden, Parc de la Creueta del Coll, is far enough out of town to ensure that it is never too crowded, but close enough in for a short 1/2 day trip. Parc de la Creueta del Coll is again a park with an outdoor paddling pool but on a much larger scale and a little deeper. It is big enough and varied enough to accommodate a larger number and age range of kids than Torre de las Aiguas. There are canoes with monitors for the slightly older kids to try out and the water never gets deep enough to be out of standing depth. My kids learned to swim up there and there is loads of space around the pool to sit and relax and sunbathe as well as a couple of kids play areas and a ping pong table.
The recently redesigned and rebuilt park is open all year round but the pool or rather 'lake' is only in use June through September. As with Torre de las Aiguas, you will need to bring a picnic (although there is a little kiosk to get ice creams or bottles of water)
A taxi ride from the center of town to the park in suburban Vallcarca would cost no more than 10€. To get to the park by Metro, take green line L# to Vallcara, and then follow these directions to Passeig de la Mare de Déu del Coll, 77, 08023, Barcelona, Spain on Google Maps The walk is about 1.2 kilometers.
View Larger Map
The park is also accessible by bus, either no 28 from Placa Catalunya or no 25 from Gracia. The bus takes a bit longer, but drops you off right at the entrance to the park. The address is Pg Mare de Déu del Coll 77, Vallcarca, Gracia, Barcelona
Parc del Laberint
My third and final secret garden is again a little out of town and accessible by bus, metro or taxi. Parc del Laberint is as the name suggests dominated by a citrus tree maze or labyrinth which is great fun to try and find your way around- for all ages. The neo-classical gardens surrounding it are very serene and tranquil even at the height of summer due to restrictions on the number of people allowed to enter. The entrance fee to the part of the garden that holds the maze is just over 2€ with concessions but outside the pay area there are kids play areas, picnic areas. a café kiosk and lots of gardens and park to explore. The easiest way to get there is by metro to the station Mundet on the Green line (L3). The park is about two minutes walk from the station. Exit the station on the mountain side of the main road and head towards the circular motorbike racing track (velodrome) just in front of the entrance or ask a local for help. The address is La Vall d'Hebron, Barcelona 08035.
I hope you find my suggestions helpful and interesting. Of course there are lots more places I could suggest and would be happy to help anybody out with advice if they want to drop us an email. Please come see us if you are in Barcelona. You can find our child-friendly fish and chip shop at: Fish and Chips SCP, Rambla del Raval 26, 08001 Barcelona, Tel: 93 4411134. Email:info at fishandchipsbarcelona dot com.
Related Links
EasyJet:Barcelona's Fish and Chips
Barcelona With Kids
Planning Your Day on a Family Vacation
2 comments | Posted on June 11, 2008 |

Save to del.icio.us



Subscribe to our feed