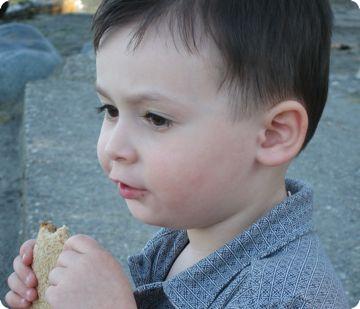 On Monday I will publish an article about how to travel with a child who has severe allergies. If you (like me) have children without allergies, you'll probably think "don't care" and skip right past it. And that's fine, because you don't need to think about the logistics of traveling with a child who could go into shock from sitting next to someone who eats the wrong thing. But I want to share with you why I think this is important, and why I care, and why I will took the time and energy to write these articles. Most importantly, I want you to understand why you should care too.
Back when I first started this website, I recommended that parents pack peanut butter sandwiches for travel days. I packed them myself. PB&J is easy, it doesn't need refrigeration, it tastes good, and it is a great way to get some protein.
And then one day, a reader politely and gently told me it wasn't a great idea. She shared that "people with allergies can react from the smell or particles in the air or on the seats." I realized she was right, and I updated the text of the article, but secretly I thought "I'm still going to do it" and I had a thousand reasons: "I'm busy," "My son is a picky eater, and this is his favorite lunch" "The chances of sitting near someone with an allergy are small."
The next time we headed out of town, I started to pack him PB&J, and then a funny thing happened... I felt guilty and I packed something else. And in my guilt, I started to be more aware of this issue, and started to be more open to messages in the media about severe allergies. Gradually I learned things like:
The incidence of food allergy has doubled in the U.S. over the last 10 years and scientists don't know why.
Peanut allergy doubled in children over a five-year period (1997-2002).
The incidence of food allergy is highest in young children – one in 17 among those under age 3.
About 3 million children in the U.S. have food allergies.
Even trace amounts of a food allergen can cause a reaction.
A recent analysis of data from U.S. hospital emergency departments (ED) estimated a total of 20,821 hospital ED visits, 2,333 visits for anaphylaxis, and 520 hospitalizations caused by food allergy in just a 2 month period.
Death can be sudden, sometimes occurring within minutes.
SOURCE:
The Food Allergy & Anaphylaxis Network
Bit by bit, I started to notice more news stories and blog entries about parents who travel with kids who have severe allergies. As DeliciousBaby grew, I started getting periodic tips or questions from parents of allergic children struggling to make their own family trips work. Bit-by-bit the issue became real to me.
Finally, a few weeks ago I started looking for good resources I could link to. I didn't find anything that felt "complete." I asked around, and nobody could point me to one an a resource as detailed as, for example, my recent posts on Breastfeeding on a Plane. I realized that it would be a service to my readers to write more about traveling with severe allergies. I sent out a query, and the stories I got back were nothing short of inspiring, and some of them even brought tears to my eyes.
Finally, I'm beginning to put myself in the shoes of a parent with a child who has a life threatening allergy. I realize that every fiber in my body would tell me to keep my child locked up safely at home. I would want to feed her food I made at home made from produce I grew in my own garden and flour I milled myself. And I'm guessing the parents that I heard from feel that too... but they know that doing that would be wrong for their child, wrong for their families, and wrong for themselves. So they put their kids in school where some well meaning parent might send peanut butter cookies as a snack one day, and they fly across the country or across the world.
They travel not just to visit family, but also to explore new places and cultures, and to have family time, and for all the other reasons that our family travels.
The stories I heard ranged the full gamut of experience. I heard from parents who had nerve racking trips made more difficult by well intentioned strangers who offered their child food when they weren't looking. I heard from parents who had amazing experiences in places as far reaching as France, Spain, Vietnam, and Morocco. Parents told me how they make it all work, from wiping down every surface on the airplane seat, to shipping food ahead, to interviewing local bakers in a foreign language, to renting apartments where they can cook each meal themselves.
And each of them seemed to feel that the experiences they had made the strain and worry worthwhile. In every email message there was an amazing spirit of willingness to make it all work. Why do they do it? Just for a vacation? To check some things off on a list of monuments? I think it's something deeper, I think these parents are giving their kids THE WORLD.
And what they need from the rest of us is simple in comparison. It's nothing really. Don't pack a bag of nuts or a pb&j in your carryon, don't offer a child a snack without asking the parent first, and the next time you see a parent trying to set up a nut-free zone around their child on an airplane, say "come sit next to me." Because really, if we can't help keep each other's children safe, then who will help keep our children safe?
Related Links
Tips and Advice for Traveling With Severe Allergies
17 comments | Posted on June 20, 2008 |

Save to del.icio.us



Subscribe to our feed