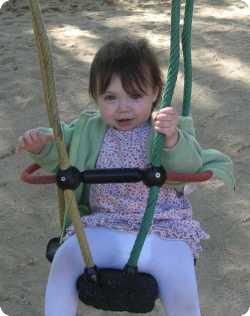 Several times a year we visit my in-laws in Anaheim Hills, CA. They live about 20 minutes from Disneyland, which means that when my kids get a little older, the area will be a wonderland, but at the moment, they'd be exhausted before we made it through the first line for the first ride. Orange County beaches too are wonderful, but the drive, especially in Orange County traffic sometimes leaves us all in tears. All of which means, that for now, we're stuck in inland Orange County where big-box stores rule and zoos, beaches, and other child friendly activities do not.
We can spend a couple of days indoor at Grandma's house, but everyone's behavior improves when we add a few outside activities to the mix.
I prepare for each visit with a list of nearby activities that we can squeeze in between everyone's nap time. Here are some of my favorite ideas when we're visiting a destination that doesn't have a lot of built-in attractions for kids.
Use a AAA guide or google to find out about local Factory Tours
A visit to the Pet Store is always great (and I don't run the risk of coming home with anything)
Playgrounds are never boring (or in areas where there aren't many public parks, McDonalds often has a play area)
Children's Museums always have a nice variety of activities and are great on a rainy day (Click Here for a List of Children's Museums Worldwide)
Public Libraries and bookstores are a great place to hang out and read some new books. Many even have a small play area.
With toddlers and preschoolers, a ride on a bus, trolly, subway or train is exciting even without a true destination.
Search for birthday party venues or other kids activities like Little Gym and Gymboree. Though they're set up for locals, many have drop in hours or allow visitors to drop in on classes.
Train tracks or local airports can be a fun place to park or picnic and watch the activity (especially with toddlers). It's easy to find these with a local map.
Construction sites are fun to watch too, but you have to drive around town a little to find them
Model Train Stores often have model train setups and Thomas Train play areas
In rural areas, farms and nature reserves can be a great place to watch animals and birds.
Local Museums can be made interesting for kids, as long as you aren't too hung up on seeing every exhibit in detail.
Buy a craft kit or some new markers at a local Craft Store (and then complete the craft at home)
Other Resources:
For major cities, GoCityKids has listings of kids activities.
What are your favorite things to do when you can't find an organized kids activity? Let me know in comments.
Related Links:
DeliciousBaby: A Day On Your Family Vacation
DeliciousBaby:Enjoying Cultural Activities With Kids

Association of Children's Museums (with list of museums worldwide)
1 comment | Posted on March 22, 2008 |

Save to del.icio.us



Subscribe to our feed