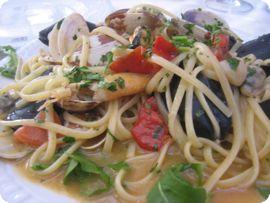 One of my great joys before any trip is to leaf through books that help me learn about the food I will be eating at my destination. Sometimes I just look at the pictures and pick a few restaurants or bakeries, but if am motivated I'll even cook a few new dishes before we go. When I return, I often have a few regional specialties packed in my suitcase so that I can recreate some of the dishes I enjoyed.
Earlier this week, I wrote about my favorite online restaurant guides. Here are some of my favorite printed resources for finding great food experiences around the world.
General Resources
Lonely Planet's World Food Guides are a great resource for learning about a region's food before you go. The guides have lots of pictures and even include a few simple recipes.
Fodors Gold Guides include clear, accurate restaurant reviews and their authors seem to seek out great food at every price. In larger cities, Fodors often lists one or two child friendly restaurants. Look for the "Gold Star" recommendations (which can be in any price range). Supplement this guide with a great map.
Style City Guides are a great way to find out about a city's new and interesting restaurants, bars and shops (as well as the historic and traditional places that remain unique and fashionable. StyleCity guides aim to mimic a fashionable friend's recommendations in each city they cover. These guides also feature clear maps and beautiful photographs of each destination.
Seattle
Best Places Seattle
does a thorough job of listing great food choices (and giving you a good sense of what to expect). The guides also have extensive hotel, shopping and activities listings.
New York
Nosh New York
is not a traditional restaurant guidebook. Instead of listing just the authors favorite Manhattan restaurants, it is more of a neighborhood by neighborhood guide to the diverse food experiences in New York City. The book includes restaurants, bakeries, markets, food stands, interesting details about who lives in each area, and even a few recipes. This is a book for someone who wants to graze and stroll through New York. This book is perfect for me. While I love New York's fine dining establishments, and I count
Daniel
and
Balthazar
among my favorite restaurants anywhere, I think that what makes eating in New York truly special is the diverse international offerings. I once ate in a restaurant that specialized in Chinese food prepared in the style of a Chinese restaurant in Bombay (more okra, more fried offerings, different spices and no beef). In New York I can have Falafel for a snack, cuban sandwiches for lunch, and a fresh made donut for dessert. I'm in heaven.
Paris
Clotilde's Edible Adventures in Paris, By Clotilde Dusoulier
was written by the author of the popular blog Chocolate and Zucchini. The book lists Clotilde's favorite restaurants, bakeries, and food shops in Paris. She includes details about what to order and what makes each place special. Clotilde, is focused on affordable experiences (though there is the occasional extravagance) which makes her recommendations often suitable for families. What I like best about this book, though, is that it includes many international choices (Japanese, Middle Eastern, etc) that most guidebooks ignore
Italy
Italy for the Gourmet Traveler by Fred Plotkin
is a great resource whether you're taking a road trip through Italy or focused on a few major cities. The book lists the author's favorite restaurants and markets whether they're mom & pop bakeries or Michelin starred jacket-required restaurants. The book also helps you learn about the regional specialties in each area you are visiting.
The Splendid Table
is widely recognized as the best reference on Northern Italian cooking. This cookbook not only has fantastic family recipes, but it's a great way to learn about the food of Emilia Romagna. If you've ever dreamed of cooking a Ragu all day or making a perfect lasagna, this is the cookbook for you.
Related Links:
Favorite Restaurant Guides on the Web
How To Find A Kid Friendly Restaurant With Great Local Food
Does Travel With Kids = The McDonalds World Tour
Meals and Snacks on a Family Vacation
Reader Questions: Eating With Kids In Paris
0 comments | Posted on May 16, 2008 |

Save to del.icio.us



Subscribe to our feed