During the summer of 2001, as part of our 6-month trip around the world, my husband and I spent two weeks in Myanmar (aka Burma). The decision to visit Myanmar was not an easy one. The country's government is repressive. Ordinary people are impoverished while government officers live in luxury. It is not uncommon for villagers to be forced into labour when the government needs a new road, some rubies mined, or a bigger military. We debated the pros and cons of going and ultimately decided to go because we felt that going meant that we'd get a deeper understanding of the country, it's people, and it's culture, and that this would ultimately be a good thing, and we vowed to spend our valuable tourist dollars at family businesses instead of government agencies. As the tragic events of the cyclone in Myanmar unfolded, I felt like I had to do something to encourage people to help. I hope you'll read this post, enjoy some of our pictures, and join us in donating money to help those in need in Myanmar.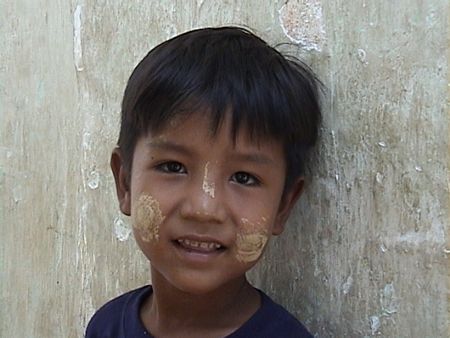 We have all read or seen pictures of the shocking devastation and flooding caused by Cyclone Nargis in Myanmar on May 2-3. The storm's winds reached as high as 121 mph, but most of the estimated 100,000 deaths were caused by flood waters driven inland from the sea. The death toll continues to rise as people make due with unclean drinking water, little or no food, few shelters, and inadequate medical care. The lack of sanitation means that disease will spread through the already weakened population resulting in even more deaths. I know that most of my readers are parents, so I'll tug on your heartstrings even more by telling you that Myanmar's children are expected to be hardest hit:
Current United Nations estimates put the total number of severely affected people at up to 2.5 million. UNICEF teams report that in the areas they have visited some 40 per cent of those severely affected are children. If the patterns UNICEF staff are seeing in the devastated areas are representative, there may be as many as one million children in need of urgent assistance.
Source: UNICEF Website
Even if the country had the resources, know-how and organizational ability to rebuild on its own (it doesn't) and it's unlikely that the government would prioritize the lives of poor children, farm laborers, hill tribespeople and other ordinary citizens as it struggles to recover. Furthermore, Myanmar's government has been reluctant to let foreign governments help, which has severely restricted aid from other countries and the UN.
There is a desperate need for NGOs with a track record of effective disaster relief to bring in aid directly to the people whose already meagre existence's have been devastated by this storm. UNICEF teams have been among the few able to reach remote areas of the country with aid. According to the UNICEF Website:
More than 70 UNICEF assessment and relief missions are in the regions, distributing essential survival kits, including plastic sheeting for shelter, water purification materials, medicines and mosquito nets, and cooking materials.
I am posting some of my favorite pictures from our trip with the hope that they inspire you to give to UNICEF (or the organization of your choice). This is a situation where any amount of money can truly make a difference.
Once you've donated, I hope that you'll take the extra step of commenting on this post. If my pictures aren't compelling enough reason to donate, a little peer pressure might help.
I also hope that you will spread the word by sharing this post with your friends in email (click the share button at the bottom of the post), on Digg, or using your favorite social bookmarking website.
The amazing and ornate Shwedagon Pagoda, in Yangoon (Myanmar's Capitol) is one of the most beautiful and ornate temples I have ever seen. Its Stupa (the tall gold dome) stands approximately 321.5 feet tall. The structure is plated in gold, with the top also encrusted in diamonds. Though Myanmar is a poor country, the central tower is reguilded each year.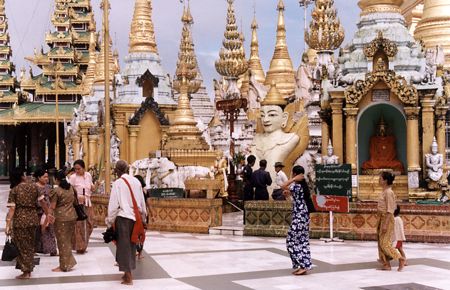 It's an amazing feeling to wander around Shwedagon Pagoda, and perhaps my favorite things is that it is one of the few places where visitors can talk to local people. During each of our visits to one of Myanmar's many Pagodas, we ended up, at some point, seated in the shade talking to a group of teenage monks. There always seemed to be a ringleader whose English was better than the rest, and after they'd asked all about the our lives in the US they pulled out their English Slang Dictionaries and peppered us with questions about "how people talk."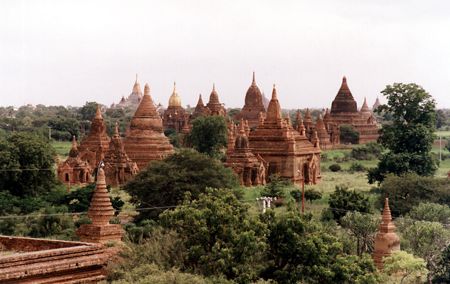 About an hour north of Yangoon by air (7 hours by bus) is the Bagan Archeological area, about 40 sq km of flat plains dotted with thousands of 800-year-old temple ruins. Tourists can hire a taxi or horse drawn carriage to take them to the major sights, but we thought it was more fun to rent bicycles and wander.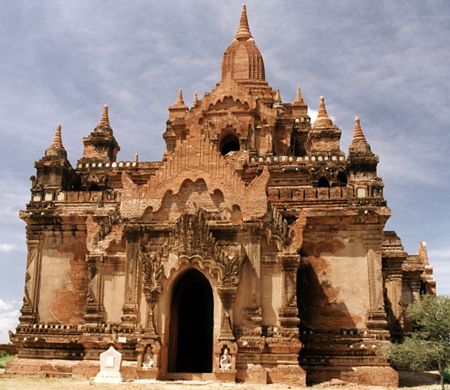 Each of the temples in Bagan is different, so it's hard to show a picture of a "typical temple," but here is one that we liked. Look at all the beautiful architectural details (and the weathering of the building). The larger temples were maintained by locals, but there was none of the pressure to buy trinkets that we experienced in other tourist destinations in developing countries. English was limited, but we were able to talk to some of the workers, and we even helped pull a few weeds.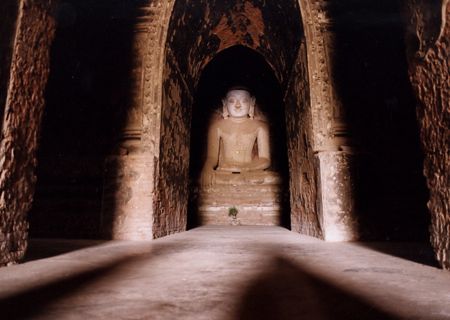 The inside of each temple was different. Some had ornate decorations while others were more simple. There was something very powerful about this striking statue.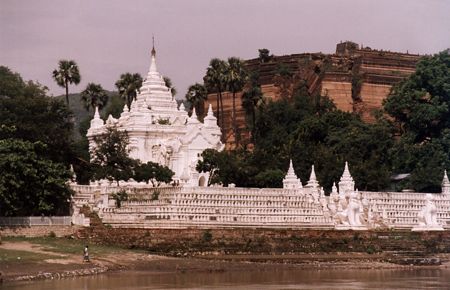 We took a ferry ride from Mandalay along the Ayeyarwady River to the massive Mingun Paya. Inside is the world's largest uncracked bell (the Mingun Bell). The site was almost empty when we visited, and we were glad to have the company of a few monks.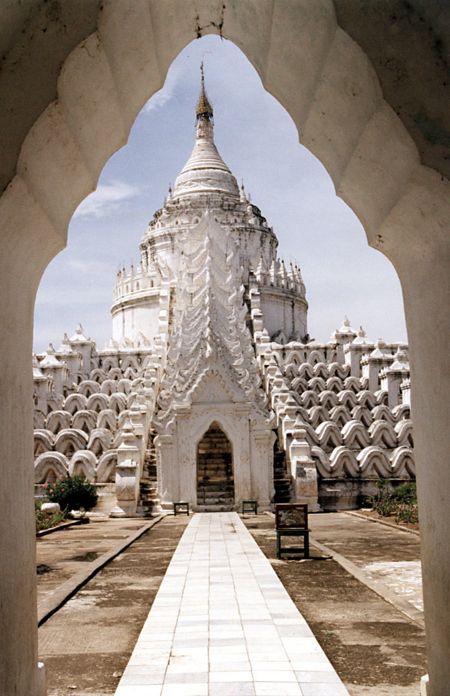 The Hsinbyume Pagoda, also in Mingun, was built in 1816. We were followed through much of our visit by the young boy in the very first picture in this article. He didn't speak English, but he played peek-a-boo, hiding behind the temple walls, and laughed when P juggled for him.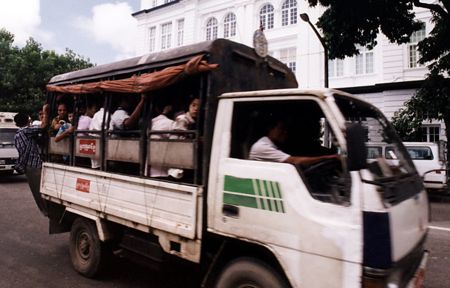 A typical "bus" crammed with people. Note the old colonial building in the background.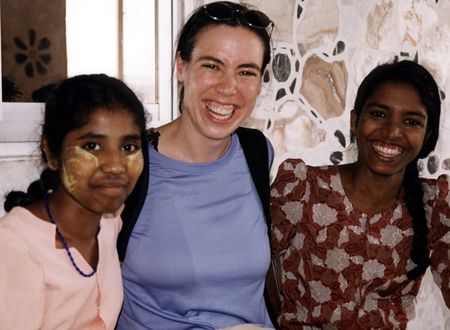 Burmese women credit their good skin to the Thanaka Bark they grind into a powder and use to decorate their faces. Mothers pride themselves in decorating their children's faces (and their own) with ornate designs. At a small shop in Bagan, I decided to buy some for myself. These two women, daughters of the shop owner, thought that the idea of a foreigner using Thanaka was the silliest thing they had ever heard of and they proceeded to give me demonstrations and beauty advice, giggling the whole time.
Was there a picture that you found particularly inspiring? Let me know in comments
Related Links:
UNICEF Donations for Myanmar
NY Times: List of Charities for Myanmar
NY Times: Interactive Satellite Images of Myanmar Flooding
NY TIMES: Myanmar's Children Face New Risks, Aid Groups Say
Photos To Inspire You: Photoblog from China
(Thanks for the inspiration!)
4 comments | Posted on May 21, 2008 |

Save to del.icio.us



Subscribe to our feed