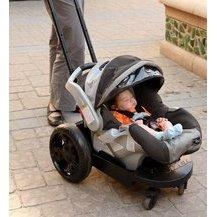 I am excited to announce my latest giveaway, a GoGo Babyz Infant Cruizer
. The Infant Cruizer lets you easily convert your existing infant car seat into a stroller, perfect for pushing baby through the airport. When it is not in use, it folds up into a compact size, making it easy to fit in your trunk or gate check. When your child grows out of their infant seat, a toddler adaptor (purchased separately) lets you use it to convert your child's toddler carseat into a stroller. A twins adaptor is also available.
This Giveaway is now closed. To learn about new giveaways as they become available, please

Subscribe to our feed
My Review
I am very careful only to give away or recommend only products that I would recommend to a close friend. Because I had no personal experience with the Infant Cruizer, I asked GoGo Babyz to mail the giveaway directly to me to try out first. I compared it, side by side, with the Kolcraft Universal Infant Car Seat Carrier
(the stroller I used with my infant seat).
The GoGo Babyz Infant Cruizer took just a few minutes to set up, and because I have a Graco Snugride, I did not need to install any of the adaptors that would be needed with a different infant seat.
I liked the fact that the Snugride snapped securely into the frame (with the Kolcraft I needed to fasten a strap around it, and I sometimes forgot that step... oops). The Infant Cruizer was less bulky and more easily maneuverable than the Kolcraft had been. I have not-so-fond memories of literally having to leave stores with the Kolcraft because I couldn't get through the aisles (can you imagine anything more heartbreaking to a new mom with her child sound asleep in the stroller). In contrast, getting through doors and hallways was easy with the Infant Cruizer. The Infant Cruizer also folds down smaller, meaning that it would fit better in my trunk than the bulky Kolcraft. The wheel brake, which is set with a single foot pedal was easy to lock and unlock.
A couple of caveats though... with the Infant Cruizer your child faces forward (instead of towards you) and is low to the ground. Neither of these would be a showstopper for me (and I suspect that the low base makes the stroller easier to maneuver), but they could be difficult for a parent who has trouble bending. Also, there is no storage basket and the handle is not designed to have shopping bags hang from it (which of course everyone warns you not to do & most moms do anyway).
Overall, I think this is a great product, and I love the fact that it grows with your child by accommodating a toddler seat (with a separately purchased adaptor). I am happy to recommend it on DeliciousBaby, and delighted give one away to my readers.
How To Enter
I will be giving the GoGo Babyz Infant Cruizer
with adaptors for the Graco Snugride, Britax Companion, Peg Perego Viaggio and Combi Centre away to one lucky reader. If you'd like a chance to win, leave us a comment before 11:59PM PST on Monday Dec 1 2008 and tell me one travel destination you plan to visit with your kids in the next year. Please include your email address in the comment form (your email isn't shared with anyone, and I will not send you email unless you win).
How to Get More Chances to Win
There are several ways you can get additional entries in this contest. Each takes only a few minutes!
If you have a blog, write about this giveaway or any article you enjoyed on DeliciousBaby. Leave a comment telling me you did so and show me the link where I can find it!
If you like this giveaway, share it using your favorite "social networking tool" (you can use the buttons at the end of this post). Then come back here leave a comment with your ID, so I can give you credit!
Winners
We will choose a winner randomly and announce the results here on Tuesday Dec 2 2008. Many thanks to Go Go Babyz for generously sponsoring this giveaway.
Share This Contest
If you have family or friends who you know will love this giveaway, just click the "share this" link at the bottom of this (or any) post to email it to a friend.
Rules
Please, only one comment per person per giveaway post (except as outlined above where the comment is related to an extra entry). Duplicate comments and Anonymous comments will be discarded. Please make sure that the email address in your comment form is valid (email addresses are never public). Winners must claim their prize within three business days after the date of notification of such prize. A Sweepstakes winner's failure to respond to the prize notification within the specified three business days will be considered such Sweepstakes winner's forfeiture of the prize and an alternate winner may be selected from the pool of eligible entries. If an entrant is found to be ineligible, an alternate winner may also be selected from the pool of eligible entries. To enter, you must be a U.S. resident, age 18 or older. Employees, partners and vendors of DeliciousBaby and their immediate family members are not eligible to enter. We will disqualify any entries that we believe are generated by scripts and other automated technology. When applicable, the winner may be required to execute and return within five business days an Affidavit of Eligibility and a Liability and Publicity Release to be eligible for the prize or an alternate winner will be selected. All prizes will be awarded. No substitutions including for cash are permitted, except that DeliciousBaby reserves the right to substitute a prize of equal or greater monetary value for any prize. Winners shall be responsible and liable for all federal, state and local taxes on the value of their prize.
Related Links:
GoGo Babyz Infant Cruizer
DeliciousBaby Travel Products Guide
314 comments | Posted on November 20, 2008 |

Save to del.icio.us



Subscribe to our feed