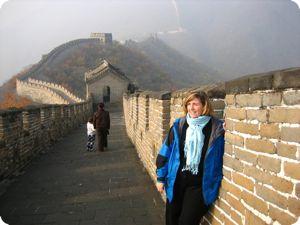 I am excited to publish this exclusive interview with Wendy Perrin, Conde Nast Traveler's consumer news editor, a mother of two kids, and the author of one of my favorite travel blogs, The Perrin Post. In the print magazine, Wendy writes a practical advice column called "The Wendy Perrin Report" as well as feature articles on travel industry trends, hotels, cruises, vacation bargains, adventure travel, and exotic destinations.
I have been reading Wendy's work for years, in fact the first article I remember making a strong impression on me was published way back in 2004, about the challenges of taking a toddler to a family-friendly resort in Mexico but I'm sure that I had read her work well before that time. What I've always loved about Wendy's writing is the way she blends solid practical advice with a great sense of humor and the occasional snarky comment.
How did you get your start as a Travel Writer?
I started working at Conde Nast Traveler magazine as an editorial assistant back in 1989. The first "travel writing" I did—if you can call it that--was when I became Ombudsman Editor in 1990 and started writing the Ombudsman column. That led me to writing investigative news articles, which led to features, then a book Wendy Perrin's Secrets Every Smart Traveler Should Know
, then a column of practical travel advice ("The Perrin Report"). Currently I write features and my column, supervise several big annual packages with lists attached (e.g., "Wendy Perrin's Ninth Annual 128 World's Top Travel Specialists" in CNT's Aug issue every year; "Wendy Perrin's Third Annual Worldwide Villa Rental Guide" in the June issue; the annual "Dream List" in the Dec issue; etc.), am heavily involved in other regular features (our series of "Iconic Itineraries," our annual Cruise Guide, etc.), and blog in whatever few moments of spare time I can eke out -- which is why I'm usually blogging at home at 11 p.m. There's NO time for it during the work day!
How did you start blogging?
The blog wasn't my idea. I didn't even know what a blog was. A little more than 2 years ago, Concierge.com, which has been the host of CNTraveler.com, suggested I start writing one.
Have you had mentors, and how did they help you?
The most important mentor of my career has been Tom Wallace, the former editor in chief of Conde Nast Traveler who is now editorial director of all the Conde Nast Publications (the most important job on the editorial side at Conde Nast). I started out as his asst 19 years ago, and he promoted me to the various positions I've held, including my current one, Consumer News Editor. The book I wrote, and the column I still write, were his ideas. You asked what I looked for in a mentor: I'm afraid I didn't really go out seeking one—I just ended up with one. You asked how I made the mentoring relationship effective: I guess I simply did a good job with the assignments Tom gave me, which is why he kept giving me more and more.
As for the blog, there's been no mentor or guidance at all. The closest I've come to somebody showing me the ropes is Sheila Scarborough of Family Travel. I met her through her comments on my blog (she was actually one of the winners of the first "Where's Wendy?" contest), we started emailing each other, she convinced me to attend a blog conference with her in April 2007 (SOBCon), and she's repeatedly answered my dumb questions ever since. I have so many more dumb questions, though!
Is there one article or accomplishment you are most proud of?
I guess I should be most proud of my 2005 feature "The Fabulous Fifty" because it was a finalist for a National Magazine Award --which is the top honor in the magazine world. Honestly, though, one of the accomplishments I'm most proud of was managing to take my kids with me on a working trip to Italy back when they were only 3 and 1. I have exceptionally active boys, so it was no easy feat keeping them strapped into their plane seats, preventing them from destroying the ancient villa I rented near Siena, and keeping them from killing themselves in an unfamiliar setting filled with precarious stone steps, unfenced pools, open fireplaces, and other hazards. But once I'd gotten everybody back home safe and sound and produced a successful article about renting a family-friendly villa, I had a whole new level of parenting self-confidence: I realized that if I could get my two toddlers across an ocean and through just about every hill town in Tuscany, I could take them pretty much anywhere, and I knew that as they grew older our trips would only get easier.
Why do you think there are so few women in visible positions in this industry?
From what I can tell there are a lot of female travel writers, bloggers, and editors. But I do agree that the most visible "travel experts" tend to be male. I'm talking about Peter Greenberg, Arthur Frommer, Rick Steves, Rudy Maxa, Randy Petersen, Joe Sharkey, Joe Brancatelli, Tom Parsons, and the like. Why? Perhaps it's partly because to be a travel expert with that level of visibility, you need to travel for business a lot and be able to drop everything and go on TV or radio at a moment's notice. It's hard to do these things when you're a mom with children at home.
Do you think that being one of the few prominent woman travel writers gives you a different perspective?
I don't think I'm one of only a few prominent female travel writers. I think there are many -- from magazine feature writers to newspaper journalists to guidebook authors. Perhaps you're asking how my perspective differs from the perspective of the male "travel experts" listed? When you've got kids, a lot of these experts' advice doesn't really apply to you. For instance, they'll say that if you want to nab a vacation deal you've got to have flexible dates or go in shoulder season. Well, it's hard to be flexible or go in shoulder season when you've got school schedules to contend with. Or they'll tell you how to swing a free upgrade to business class. That's fine if you're a single traveler but not if you've got tots in tow. (And there's no way I'm going to inflict my kids on the passengers in business class.) Being female has little influence on what I write about for Conde Nast Traveler, but being a mom with kids has influenced my blog a lot.
How did having kids change your career path? Were there things you gave up, or did you change your focus? I used to do a ton of TV (Oprah, Good Morning America, The Today Show, CNN, et al.) and radio. Those were the first things I gave up when I had kids. No way was I able to drag myself into a TV studio at 6:00 a.m. when I'd just been up half the night with a baby. I had no clean, pressed, spit-up-free outfits to wear. I couldn't even find my makeup. (I still can't.) It's as much as I can do just to get my articles written and edited, get home to my kids, and blog during those odd free moments now and then—usually at night after the kids have gone to sleep.
How do you balance the need to be on the road with the need to spend time with your family?
When I travel to report a story, I now do it with Type A efficiency and zero downtime. Instead of going someplace for 10 days and getting 1 story out of it, I'll go for 5 days and get 3 stories out of it. You'll never find me lounging on a beach or hitting a hotel's spa or enjoying the sunset view with a glass of wine or any of the other things that "travel writers" supposedly do. The kind of traveling I do for work is not fun. It's grueling.
What is your favorite travel memory with your kids?
Good question. It would have to be when they were 3 and 4, we were driving through Jamaica, and we decided to stop at a school, just to see if we could meet some other kids and see a slice of their lives. The students could not have been friendlier or more welcoming. They grabbed my kids by the hand, immediately started playing with them, introduced us to their teachers, and gave us a tour of the entire school. There's a great photo of Charlie with some of the students here. And there's more on our school visit here.
What do you hope that your children learn from their travel experiences?
I think travel is a vital element of a child's education. My hope is that they learn what they have in common with kids all around the world, no matter how different those kids' lives are from theirs. I hope they learn that the world does not revolve around the U.S. and that there are different and better ways of doing many things than how we do them here. I hope they develop the smarts and self-confidence that come with successfully managing whatever life may throw at you when you're on the road in another country. Most of all, I hope they grow up to be true citizens of the world.
11 comments | Posted on September 15, 2008 |

Save to del.icio.us



Subscribe to our feed