This article includes a review of a complimentary outing to see the Seattle Storm basketball team. I received no other compensation besides the tickets and food at the game, and there was no requirement that I express a particular point of view. I do not accept pay-per-post or pay-per-positive reviews, and on the rare occasion that I do accept a free service from a sponsor I will always let you know..
My feminist credentials have really taken a beating lately. I'm happy in my life (after-all, I made every choice that got me where I am), but I still find myself surprised to be a stay-at-home mom with three kids who cooks dinner more nights than not. As the kids get older, though, I worry more about modeling a world in which both women and men get to choose their career path and hobbies based on what interests them, and not based on pre-conceived gender roles.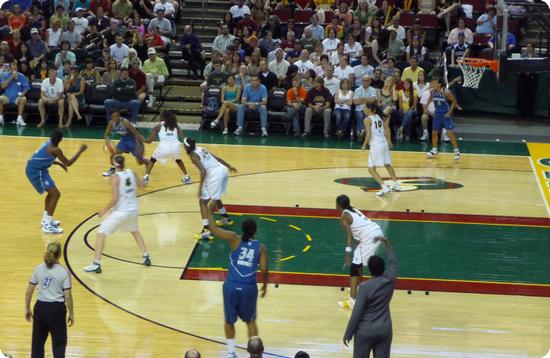 Back when I was a geeky-girl at Microsoft, that meant (in part) supporting women in other traditionally male dominated fields, and one particular favorite was our local WNBA team, the Seattle Storm. I've always loved the idea of women pushing themselves to be their best physically, even without the draw of the big salaries that the men's professional sports teams pay.
Whenever we have plans to do something new, I talk the kids through it the day before. That gives the kids a chance to think about it, ask any questions, and (hopefully) get excited. They seemed a little bit uncertain about going to a basketball game until I told them my favorite thing about professional sports (besides the junk food): You get to yell as loud as you want and nobody, not even mama, can tell you to stop. The kids eyes opened wide, and they asked me to repeat myself over and over. This was going to be fun!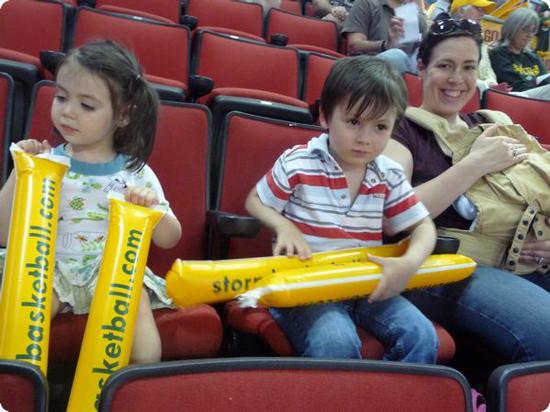 I'd forgotten how loud an actual game can be with all that yelling and loud music. As we walked in, I could see that E was a little intimidated. In fact, it turns out that there are actually two people who can ask you to stop yelling at a basketball game. Poor Eilan, asleep in the sling squirmed and opened his eyes every time I let out a yell or groaned as the other team scored a point, and eventually E, in a foreshadowing of his teenage years raised his hand in a "stop" signal and said "mom no more yelling."
Still, there was the coveted junk food, and I took a few minutes to pick up kids lunch boxes - for four dollars, each one included a peanut butter and jelly sandwich or hotdog, a juice box, and a sweet. Enough sugar to keep my yelling and batting together their tube noisemakers for the rest of the game (even if I couldn't join in). This seemed like the ideal time to introduce them to Cracker Jacks, and normally finicky E didn't have to be asked twice to try "candy covered popcorn." Mission accomplished! The kids munched away at their snacks and watched the entertainment (as is fitting for a women's team, a kids dance squad entertained us instead of scantily clad cheerleaders, and later kids from the stands were encouraged to join a conga line on the court)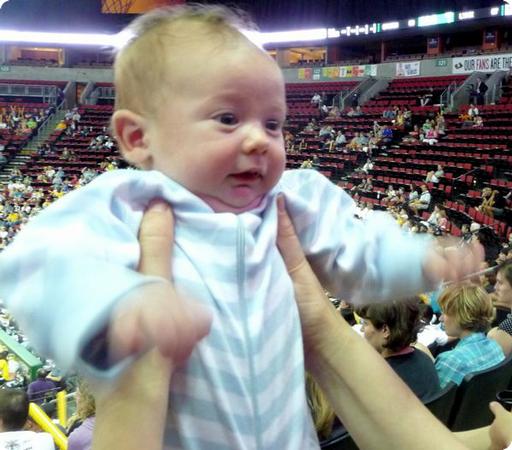 As with many kids outings, though, the kids just didn't last as long as the show. Eilan eventually awoke and seemed jittery with all the noise, and E finally turned to me and said "momma, I'm tired of sitting." Anxious to end on a high note, and aware that building a love of live sports (like any other grown-up activity) is an ongoing process, we exited in the last 10 minutes of a tied game (the Storm eventually won) and walked back to the car. Little D, who had been so drawn in by the drama of the game was extra disappointed to leave, and while I never like to see her feel sad there was something gratifying about having my little girl enjoy watching a professional sports team without any conception that she wouldn't or shouldn't dream of someday joining them on the court.
There are WNBA teams in 13 cities in the United States, and if you are visiting one of them, an afternoon or evening game might be a fun way to show your kids that it's ok to do what you love instead of following typical gender roles (or it might just be a fun way to relax after a tough day of sightseeing). If that is of interest to you, here is a link for discounted WNBA tickets, including 50% off all Seattle Storm tickets.
Related Links
Seattle With Kids
Seattle Center With Kids
8 comments | Posted on August 3, 2009 |

Save to del.icio.us



Subscribe to our feed