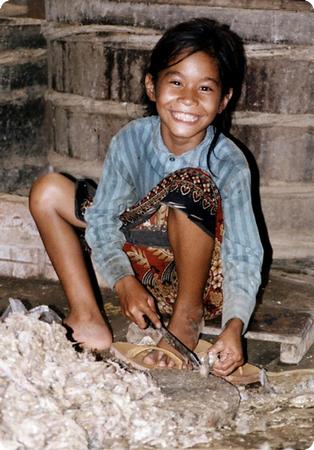 A Giveaway
If you haven't had a chance yet to make your donation to help build libraries in Zambia, now is the best time to do so! Our fundraiser ends on Friday. This week, I match one lucky reader's donation (up to a $200 contribution) by making a contribution to Room to Read. Since I cannot win any of the prizes, the reader will get to choose which prize drawings to enter.
Here's what you need to do:
Visit our prize list
Come back here and tell me what your three favorite prizes are
If you made a donation, tell me that too!
That's it
I'm making a bet that once you see all the great prizes, you won't be able to resist helping build this school. Every donation is tax deductible and enters you to win the prize of your choice.
Winners
I will choose a winner randomly from the people who comment on this post before 11:59PM PST on Wed Dec 9. I will announce the results here on Thurs Dec 10 2009. If you win, I will ask you to tell me which prizes on the Passports With Purpose website you would like to be entered to win.
Updating our Goals
I'm overjoyed to announce that
Passports with Purpose
raised enough money in one week to build a school in Cambodia! We're not resting on our laurels though - there is so much more we can do to make our school a true resource for the entire community. Each additional dollar that is donated will be used to improve the health of both the students and the overall community. We have updated our goal to $26,000 in order to fund the following improvements:
Hagar water filter: $300 one-time cost
1 "Victory" vegetable garden,: $7,500 funds first two years, $2,000 each additional year
School nurse: $5400/year
More about The School
We know a little bit more about our school now. It will be built in Preah Vihear, the region that's under dispute with Thailand. We also know that it will open in about six months -- June of 2010 is our current best guess.
Thank You

I want to thank the very generous sponsors who gave us a great headstart towards our goal by making donations directly to AAfC to help build a school in Cambodia
Platinum Sponsor
Silver Sponsors
Related Links:
Passports With Purpose Travel Blogger's Fundraiser
Rules
Please, only one comment per person per giveaway post. Duplicate comments and Anonymous comments will be discarded. Please make sure that the email address in your comment form is valid (email addresses are never public). Winners must claim their prize within three business days after the date of notification of such prize. A Sweepstakes winner's failure to respond to the prize notification within the specified three business days will be considered such Sweepstakes winner's forfeiture of the prize and an alternate winner may be selected from the pool of eligible entries. If an entrant is found to be ineligible, an alternate winner may also be selected from the pool of eligible entries. Employees, partners and vendors of DeliciousBaby and their immediate family members are not eligible to enter. We will disqualify any entries that we believe are generated by scripts and other automated technology. When applicable, the winner may be required to execute and return within five business days an Affidavit of Eligibility and a Liability and Publicity Release to be eligible for the prize or an alternate winner will be selected. All prizes will be awarded. No substitutions including for cash are permitted, except that DeliciousBaby reserves the right to substitute a prize of equal or greater monetary value for any prize. Winners shall be responsible and liable for all federal, state and local taxes on the value of their prize.
7 comments | Posted on December 7, 2009 |

Save to del.icio.us



Subscribe to our feed