Here is a reader question from Tiffany, who asks:
I am traveling alone with my 27 month old from Hawaii to Barcelona in January to meet my husband. I am not planning to bring a carseat, do you know of a car service there for airport transports? After a couple of days in Barcelona we will be cruising on NCL to Rome, Athens, Turkey, Egypt and Malta. Can't wait, but I am VERY NERVOUS about the flights. One way, our flight is approximately 18 hours total in air. YIKES!!!! I have appreciated the tips on this site! Thank you!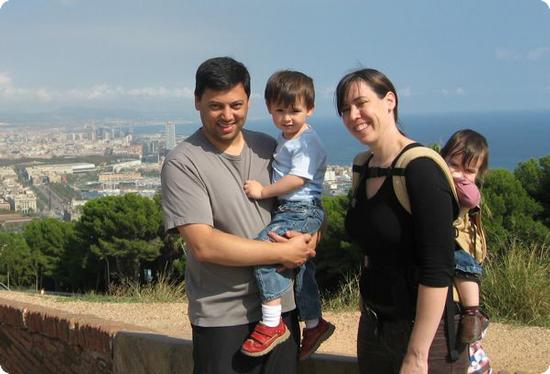 Good luck on your trip to Barcelona! We had a wonderful time there with the kids last winter. Costa Blanca Transfers is able to provide child safety seats to customers, but I have not tried this company myself.
Even when a car service does provide child seats, the language barriers and differences in car seat laws can sometimes make it difficult to get exactly the type of seat you need. Occasionally you will end up with a booster for an infant or an infant seat for an older child, which creates an awkward situation after a long flight.
In Barcelona it is fairly easy to take the metro into the city center from the airport (and that is what we did when we visited). Perhaps you could have your husband meet you at the metro station closest to your destination to carry the bags?
Another popular alternative is to travel with a Sit 'n' Stroll
stroller because it converts quickly between a carseat and a stroller. That makes it easy to travel around town, especially if you think you will be getting in and out of taxis frequently.
It is natural to focus on your worries about the flight (that's always the biggest cause of stress for me too) but try not to let it dominate your thoughts. That 18 hours represents just a small percentage of your overall trip... a trip which sounds sure to be wonderful.

If you have a question about traveling with kids, send me email at Debbie AT DeliciousBaby DOT com
Related Links:
Barcelona With Kids
Favorite Travel Gear
1 comment | Posted on January 19, 2009 |

Save to del.icio.us



Subscribe to our feed