This is an unpaid and unsolicited review of the BABYBJÖRN Travel Crib Light
. The product was given to me for review by BabyBjorn. Because I never keep freebies valued at over $40, I will give it away to one lucky reader in a giveaway that begins tomorrow.
We don't usually bring a travel crib with us when we travel. Instead, in an effort to travel light, we co-sleep when we're on the road. Still, with more warnings about the dangers associated with co-sleeping as recently as January, I recognize that not every parent is willing to make that trade off. Similarly, while we've been willing to use hotel cribs at our destination, not every parent feels comfortable doing so (and not every hotel crib lives up to current safety standards).
People often ask me about different travel cribs, and I thought it would be helpful to review the BABYBJÖRN Travel Crib Light
, one of the more highly rated travel cribs on Amazon. As a comparison, I also set up the Graco Pack n Play
we used as a "downstairs crib" when both E and D were young.
Size and Weight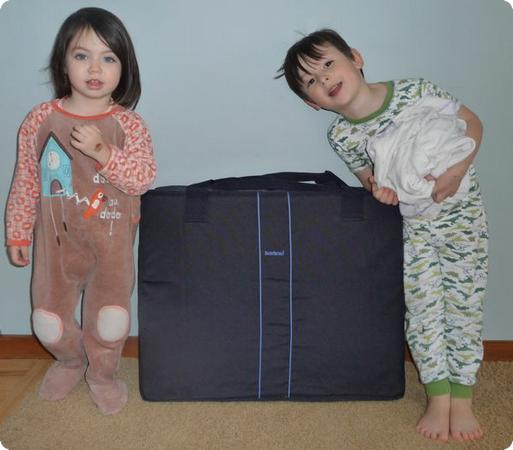 When closed, the Baby Bjorn Travel crib measures 7.2 x 24 x 19 inches - too bulky to fit in most suitcases. Instead it comes in a bag sturdy enough to be checked without additional packaging. The Pack n Play is also too bulky to fit in a suitcase, and comes with its own carry bag. Note that any optional accessories (e.g. a mobile or shade) do not fit in the Pack n Play carry bag.
At just 11 pounds, the Baby Bjorn felt incredibly light to me, especially when I compared it to my Graco Pack n Play (weighing in at 21 pounds or more depending on model)
All fabric parts can be zipped off and machine washed.
Setup

As I pulled the Baby Bjorn Travel Crib out of its carry bag, the spring loaded poles started to pop into place. Before I had a chance to dig out the instructions the frame was assembled, and it seemed obvious that I would insert the mattress with the "this end down" side down and be done. It was a refreshing change to set up a new piece of baby equipment for the first time without a struggle. In contrast, I have set up our Pack n Play once or twice on my own, but I usually leave that job to my husband because, frankly, it frustrates me.
Use
The crib felt sturdy once set up, and the mattress was more padded, and seemed more comfortable than the Pack n Play mattress. D, who is almost 2 1/2 fit easily in the crib, while E (almost 4) seemed a little cramped. The company recommends that children over 35 inches tall or big enough to climb out of the crib not use it.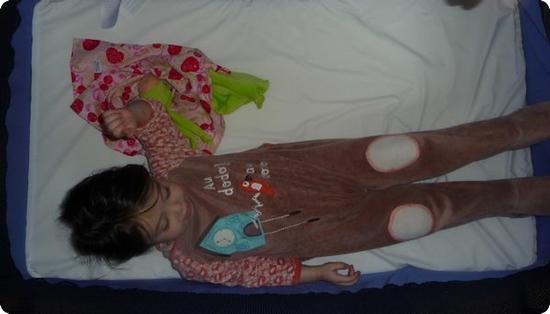 Unlike my Pack n Play model, there was no bassinet, so with a very young baby you would reach all the way down to the ground to pick up or put down the child. That's fine for a travel crib, but as an extra crib to use at home, the bassinet (and the changing table) that came with my Pack n Play were features I really used a lot.
The crib was just as easy to disassemble as it had been to assemble, and while I struggled to fit it back in its case on the first try, once I figured out how to position the leg poles, it slid in easily on subsequent tries.
Cost
The BABYBJÖRN Travel Crib Light
Retails at $279.95 (it is on sale at Amazon now for 228.25 - $51 off). The Pack n Play price varies from $69.99 (includes bassinet) to $294 (which includes a bassinet, shade canopy, changing platform and diaper storage).
Conclusion
Overall this was a very well designed product and seemed sturdy enough to hold up to lots of use and frequent travel. The fact that it was streamlined to make it light would make it great for road trips, or even as a checked bag on an airplane, but also meant that it did not have all the bells and whistles to be a great extra crib at home.
Related Links
Amazon:
BABYBJÖRN Travel Crib Light
Favorite Baby Travel Gear
18 comments | Posted on March 8, 2009 |

Save to del.icio.us



Subscribe to our feed