This is a guest post from Jenny Reed, a first time mom and owner of OurCruisePlanner.com, a full service travel agency. Jenny also wrote a great article about Cruise Travel With Severe Food Allergies last summer.
My husband Jerry and I have been on over 20 cruises in the many years we've been married. None could have prepared us for the adventure of cruising for the first time with our seven and half month old son Logan on the Norwegian Spirit March 29, 2009 out of New Orleans.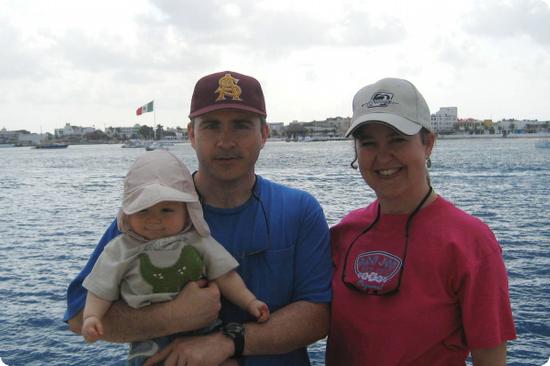 Our first concern was what to pack? To say that we packed all but the kitchen sink for our son was an understatement. But we just weren't sure if he would need something and worried that it would be the one thing we forgot. He didn't wear half of what we packed but that was okay. My advice – make sure to pack a few small, portable toys like the rings that hook onto the stroller and extra diapers. Diapers and other baby sundries are very hard to find onboard. In port, you may be able to find a few supplies but it is best to plan ahead especially if you need specific brands or styles.
With our bags packed, we drove down to New Orleans, leaving a day early so we could pick up my mother in law and her sister in Mississippi. An annual getaway is a family tradition, and on this cruise they would be able to help out with light babysitting for the first time as well!
I packed a separate duffel bag with baby food, toys and books as well as an extra blankie. One of us sat in the back seat with Logan to keep him entertained and make sure he was doing okay in his car seat. A few stops to stretch our legs and eat and we were in Mississippi by mid afternoon (about a 7 hour drive from Atlanta). He did manage to sleep well in the car- so that was great! He found it quite entertaining to be able to see out the windows now and was quite amused every time a large truck went by! I think Logan thought overall it was an adventure to ride in his "big boy" car seat for the first time for a long car ride.
On March 29 we headed for the pier in New Orleans. Even with a baby in tow, it was a breeze getting to the pier and everything was very well organized. Because we were returning passengers with Norwegian Cruise Lines, we didn't have to wait long to check in. Logan took it on in stride as he was propped up in his stroller "bucket" enjoying the view.
By mid-afternoon we were checked-in and settled into our balcony, connecting cabins and ready to set sail. The cabin steward brought Logan's small crib in shortly after we arrived and I brought sheets and mattress pad for his crib rather than use what they had provided. We also requested a small refrigerator in the room. We relaxed all afternoon, headed to the mandatory life boat drill (lots of fun and smiles with an infant!) , then off to dinner.
That evening, we decided to eat an early dinner in one of the dining rooms. Later we found that although the main dining rooms had great menus we preferred buffet dining, where we could get our own food without a wait, was easier for us all. We had packed all of Logan's baby food so we didn't have to worry about him not having something to eat that he liked. We kept him seated in his stroller as a convenience (high chairs were also available) and chose tables in low traffic areas where we would be out of the way of staff and other guests. Logan is a happy baby and was entertained with all the sights and sounds during the meals. We always sat in a corner table away from all the high traffic areas.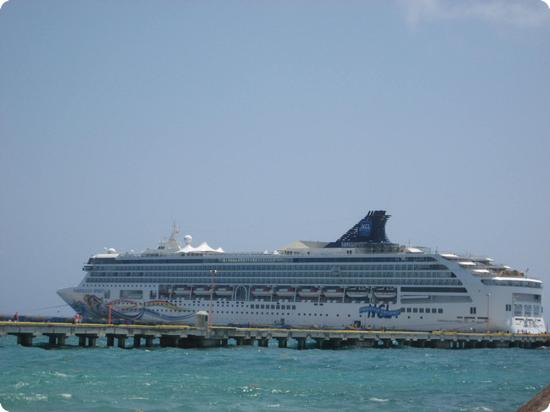 On this cruise we headed to Costa Maya Mexico first then onto Belize and then Cozumel. Because of Logan's age we decided not to take him into the ports (except for a little while in Cozumel), and he was too young to join in on a guided tour. Instead, we took turns babysitting while one of us went into port with the mother in law and aunt. Just spending a relaxing morning with Logan listening to the waves and feeling the tropical breeze was more than enough entertainment for me.
Onboard the stroller came in handy and Logan loved riding up and down the boat's glass elevators. At night there were sound and light shows that Logan often liked. Sometimes he was actually ready for bed after a day of pure entertainment by everyone so he would crash before the 7:30 nightly show.
Our cabin stewards were fabulous and sometimes when Logan would be asleep before they came to make the bed down at night, they would make sure we had towels for the next day. Our cabin steward even made sure the towel animals were on the bed even if it was the next morning instead. One challenge, though was giving him a bath which, in our cabin, turned out to be a shower with one of us. The shower did have an adjustable shower arm which made it a bit easier and Logan loved the new adventure.
We did keep Logan on a pretty regular schedule even while on vacation when it came to meals and napping. This was essential for a happy baby!
The vacation more than exceeded our expectations – both as new parents and as vacationers. Traveling with an infant when you plan ahead was easier than we had anticipated. We look forward to our next adventure soon!
Jenny Reed is a first time mom and owner of OurCruisePlanner.com, a full service travel agency with no service fees. She can be reached as jenny AT OurCruisePlanner DOT com.
4 comments | Posted on May 28, 2009 |

Save to del.icio.us



Subscribe to our feed