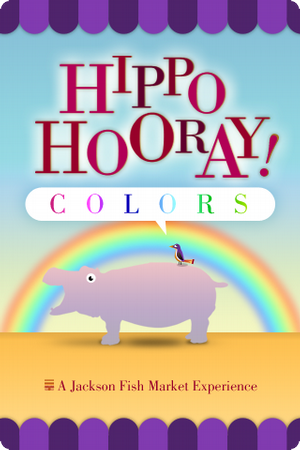 In my carry-on bag, I usually have a few toys, some books and our high-tech secret weapon (only to be pulled out when all else fails): an iPhone loaded up with a few kids games. Access to mom or dad's phone is a surprisingly appealing treat, and we've worked our way out of some very sticky situations by handing over the phone. It helps that the phone is always within easy reach.
Last week my friends Hillel, Walter and Jenny released Hippo Hooray a set of three iPhone apps just for Preschool age kids. Each one is beautifully illustrated and focuses on a different theme (shapes, letters or colors). D (who just turned three) has been really enjoying these, and each of the Hippo Hooray games is easy enough to use that D can launch and play it on her own. These would be great for a long plane ride or road trip. For a limited time HippoHooray Shapes is free at HippoHooray.com. Colors and Letters are only 99 cents each.
I have 10 copies to give away to my regular readers. You get one entry for each way that you connect with DeliciousBaby, and each winner gets to choose which app they would like. This giveaway ends on Monday October 12 at 11:59pm.
Here are the different places that I am available:
Subscribe to DeliciousBaby using an RSS reader: Subscribe to our feed
Follow @deliciousbaby on Twitter
"Like" DeliciousBaby on Facebook. I'm planning to post some secret giveaways here in the next few months!
Next, let me know how you are following me using this form it takes just seconds to fill out!
Check back here to find out whether you won on Tuesday October 13.
Rules
Please, only fill out the entry form once - using the form you can specify each way that you are following DeliciousBaby and will be given additional chances to win. Duplicate entries and Anonymous entries will be discarded. Please make sure that the email address in your entry form is valid (email addresses are never public). Winners must claim their prize within three business days after the date of notification of such prize. A Sweepstakes winner's failure to respond to the prize notification within the specified three business days will be considered such Sweepstakes winner's forfeiture of the prize and an alternate winner may be selected from the pool of eligible entries. If an entrant is found to be ineligible, an alternate winner may also be selected from the pool of eligible entries. To enter, you must be a U.S. resident, age 18 or older. Employees, partners and vendors of DeliciousBaby and their immediate family members are not eligible to enter. We will disqualify any entries that we believe are generated by scripts and other automated technology. When applicable, the winner may be required to execute and return within five business days an Affidavit of Eligibility and a Liability and Publicity Release to be eligible for the prize or an alternate winner will be selected. All prizes will be awarded. No substitutions including for cash are permitted, except that DeliciousBaby reserves the right to substitute a prize of equal or greater monetary value for any prize. Winners shall be responsible and liable for all federal, state and local taxes on the value of their prize.
0 comments | Posted on October 5, 2009 |

Save to del.icio.us



Subscribe to our feed