Everything described in this post was paid for at my own expense, and I did not let anyone know in advance that I would be blogging about my experiences.
Lost bags seem to be a way of life for us. At least one bag has been damaged or delayed on every long-haul trip we've taken since E was born. This trip was no exception. Add to that a multi-hour flight delay, the inevitable missed connection that comes with it, and a nearly-lost (but miraculously found) stroller, and, of course 3 kids, and you wonder why we do it at all.
We were so badly delayed that we decided to skip our pre-paid reservation at the Istanbul Airport hotel, and head straight into town. Luckily our room at the darussaade, where we will spend the next two nights, was already available.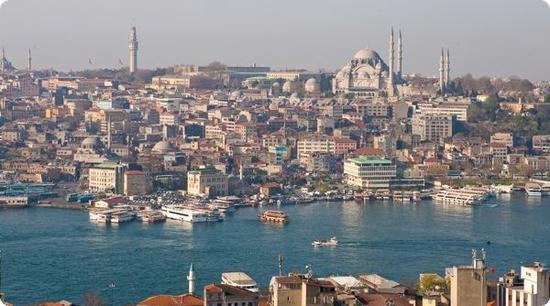 We rolled into Istanbul bleary eyed after almost 24 hours of travel. The sun was just beginning to rise, and the morning mist made the Bosphorus river, and the ships on it hazy, as if we were in a dream. The kids didn't care about the majestic view though, they were busy spotting the playgrounds that line the riverfront one after another. As tired as we all were, I could almost hear them thinking "Istanbul is going to be fun." After a quick round of showers, and clean clothing for those of us who had luggage, it was time to explore on foot.
My husband and I had distinct ideas about what we'd like to see, but as we exited the hotel, the first thing E noticed was the street gutters. Built out of curved tile, they look different than the gutters we are used to seeing at home. He was completely caught up in them, and so we followed the gutters downhill, away from the major sites, and had a morning that I'm sure we'll remember for a long time.
Instead of spending time with touts or in tourist shops waiting for the major attractions to open, our quest took us past a restaurant with its own sheep and chickens. As we visited with the animals, we noticed the ancient unmarked ruins boarded up next door. Then we were off again, surrounded by a stream of children headed to school. We stood outside, alongside their mothers, and watched as they lined up by class in the school yard, passed inspection, and were ushered into the school building. Finally, with the kids laughing and following the gutters, we wound our way uphill and found ourselves where we had planned to be in the first place, in front of the Blue Mosque, just as it was opening for the day.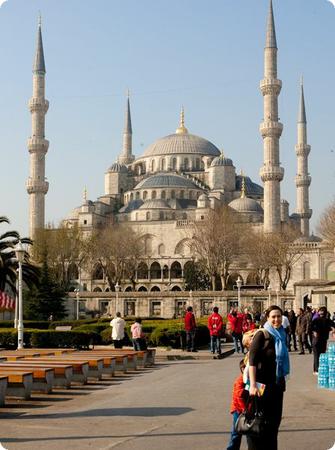 E, who often has a difficult time trying new things, was hesitant to enter the Mosque's open courtyard, and for a moment I was worried that we were in for a difficult day. Luckily my husband pulled some marbles, given to the kids by one of the hotel staff, out of his pocket. The idea of rolling the marbles on the marble courtyard made E giggle, and we were off again, checking to see which way each of the aged and worn stones sloped.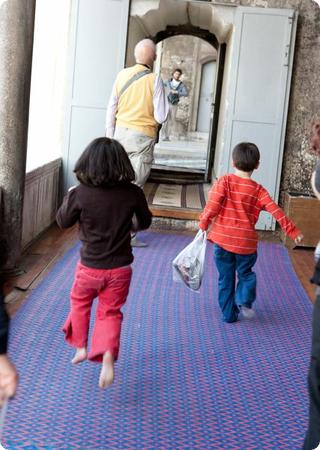 We ducked through a narrow tunnel, and then it was time to remove our shoes and enter the Mosque itself. D and E loved the opportunity to walk barefoot on the mosque's soft red carpet, and we sat down in a quiet corner to give ourselves time to take it all in.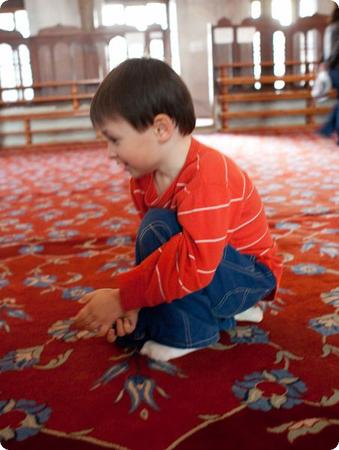 This memory is the one E came back to when he woke up at 3am, jetlagged, and decided to dictate email to his best friend back home.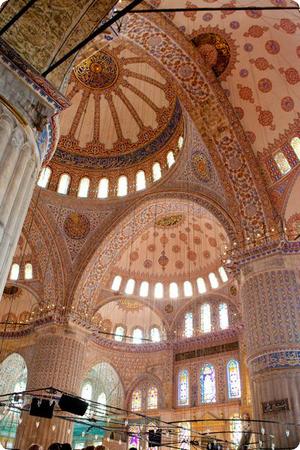 With all that adventure, we were positive the kids needed a nap, and headed back to the hotel for some down time. We tried, and tried, and tried, but nobody fell asleep, and finally - realizing that we would topple over ourselves if we didn't get some sunshine, we headed back out for lunch.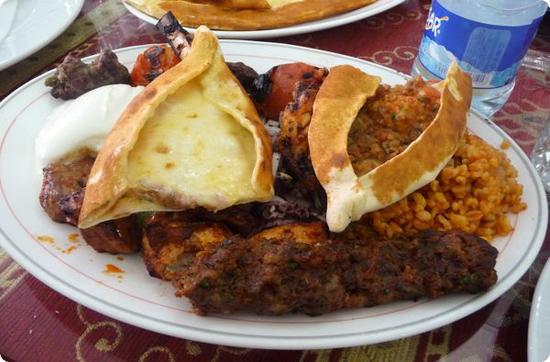 Doi Doi, a nearby kabob house fit the bill perfectly - or so we thought. The kids could watch fresh bread being made in the wood fired oven. There was a great selection of Kabob for us, and the offer of traditional Turkish pizza for the kids. The restaurant was casual and bustling - the perfect mask for any fussiness on the part of the kids. But there was none to be masked. D ate two pieces of pizza and then planted her head on my lap and fell asleep. E complained for a few minutes about the food choices before falling asleep sitting up! With the baby asleep in the sling, my husband and I finished up our meal in peace and the struggled to get three sleeping kids back to the hotel room where we all crashed for the night.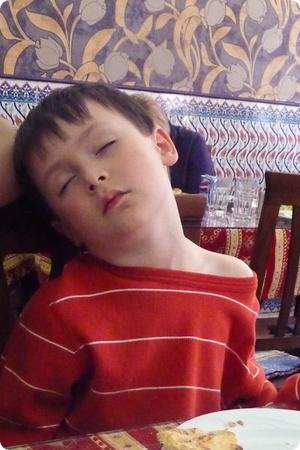 Related Links:
City Guide: Istanbul with Kids
9 comments | Posted on April 26, 2010 |

Save to del.icio.us



Subscribe to our feed