We were invited guests of the San Juan Marriott Resort & Stellaris Casino. The hotel paid for the cost of our air tickets, hotel, activities, and most meals. They did not require that I express a particular point of view.
I wasn't really sure what to expect when we accepted this trip to visit the San Juan Marriott Resort & Stellaris Casino, perhaps it was the word "casino" in the name that threw me for a loop, or perhaps it was the fact that I know very little about Puerto Rico as a destination. Still, the pictures looked nice, and the bloggers who visited the other Marriott Caribbean hotels seemed to have had a nice time, so I decided to check it out.
The Room
It's been a long time since I stayed in a Marriott hotel, and my recollections were a little, well, beige and brown. So I was pleasantly surprised to see this sunny room.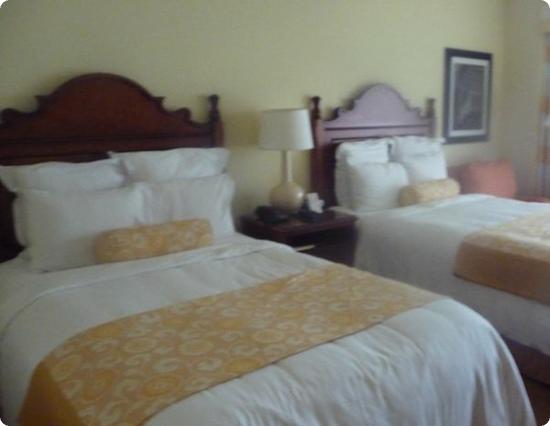 For the three of us (Eilan, Everest and I) these rooms were a reasonable size, though things got a bit cramped once I added a "Pack and Play" for Eilan. A family of four might consider upgrading to one of the hotel's larger corner rooms or junior suites, especially for an extended stay or for families who think they will spend some of the day unwinding in the room.
Our standard oceanfront room (with two double beds) in the main tower had a lovely view of the hotel's beach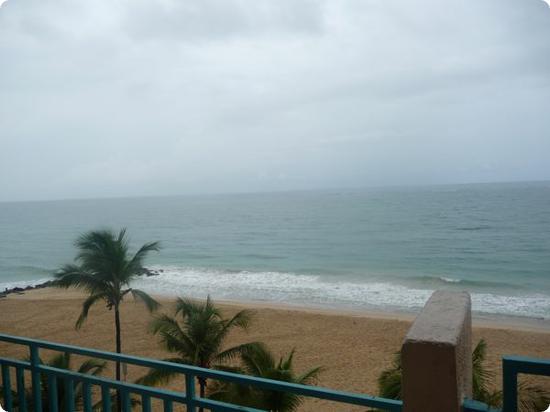 I also visited an ocean view room in the main tower, and it did have a very nice view of the beach, the pool, and some (not particularly picturesque) surrounding buildings
The Pool and Beach
For a resort like this, the beach access and pool are critical, and since I was operating "solo" on this trip, I really appreciated not having to traipse through a lobby, shopping or anything else to get to the pool. From the tower, I the elevator straight down to the ground floor and walked through a set of automatic doors. Just outside was a cabana where we could load up on towels and beach gear.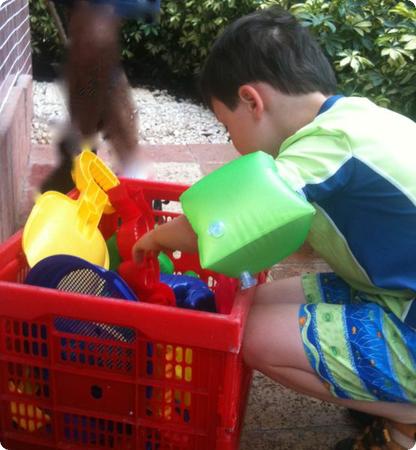 Here's the toddler pool. It's large enough that there's space to roam, but not so big that your child can get too far away. Bring along your own water wings and pool toys, or plan to pick some up at the well-stocked Walgreens a few blocks away.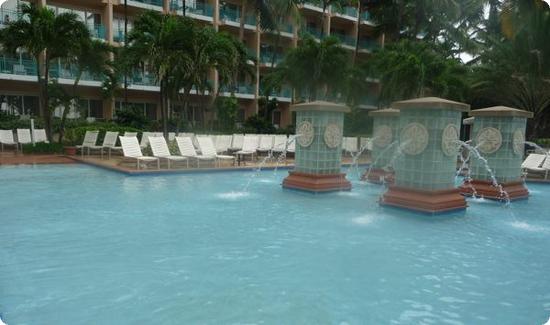 And here's a shot of the nice, wide, beach in front of the hotel. There are beach chairs, umbrellas, and even food service here.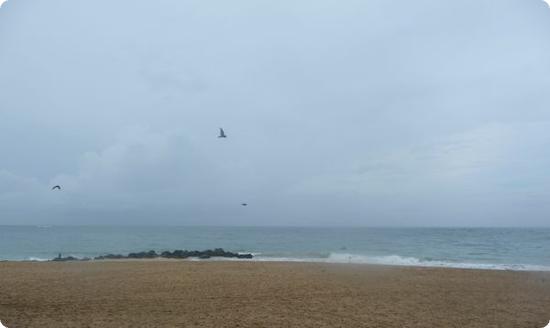 I wish I had more pictures of my kids in the pool - but with two kids, three towels, 6 shoes, snacks, diapers and a couple of hats - pictures were somehow too much to manage. Here's a nice shot of Everest and I on his very first waterslide taken by our host, Kara.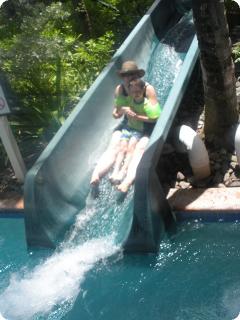 The Water slide drops into a larger, deeper pool where teens and adults often play "vollyball" with a large beach ball. There's also a swim-up bar and a jacuzzi.
Food

I tried three of the hotel restaurants including a coffeeshop, a grill that is about to be renovated (and whose new menu we sampled on this trip), and a fine dining Italian restaurant. Everything we tried was nicely done, though these are not "destination restaurants" that you would head across town to try out.
The Coffee Merchant, located in the hotel lobby, serves Puerto Rican coffee, juice, sandwiches, and reasonably priced pastries. The coffeeshop will even pack a lunchbox to take with you to the airport - a nice touch for traveling families.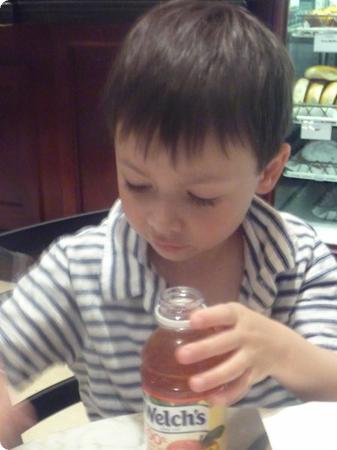 The La Vista Latin Grill serves an extensive breakfast buffet in the mornings that includes both warm and cold items. The dinner menu will feature Puerto Rican inspired fusion food, including a wide variety of ceviches and fruffy tropical drinks.
Ristorante Tuscany is the place you would eat if you wanted to leave your kids with the sitter for the night, but weren't quite comfortable leaving the bounds of the resort. It's dark, romantic, and serves homemade pasta.
Amenities
There's a kiosk in the lobby where you can print your boarding pass before you head out to the airport. I love that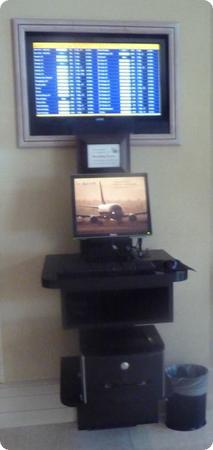 A public bus will take you to Old San Juan for 75 cents, and once you are there, a free public trolley runs around Old San Juan and to Castillo San Felipe del Morro.
When it's raining, your kids might enjoy the small arcade, secreted away in the basement of the hotel's "cabana" wing, but you might also want to bring along some puzzles or quiet games to play in the lobby sitting area.
And the Casino? I never went in. Unlike in Las Vegas, where you (and your children) are forced to walk through acres of dinging, flashing slot machines, the Casino had its own dedicated space just off the lobby. It looked big enough to be a draw for many of the hotel guests, but for us, it was just as easily ignored.
Related Links
City Guide: San Juan, Puerto Rico With Kids
0 comments | Posted on August 17, 2010 |

Save to del.icio.us



Subscribe to our feed