Disclosure: I received an Freehand Baby Carrier from TogetherBe for review. I received no compensation, and TogetherBe did not require that I express a particular point of view. My review policy does not allow me to keep products valued over $40, and I will give the Freehand away to one lucky reader in a giveaway that begins next week. I do receive a small commission if you purchase the Freehand using one of the links on my site, and that commission helps me keep this site running.
Most new parents seem to start out with either a hammock style sling or a Baby Bjorn. Unfortunately, when baby reaches about 6 months old, he or she usually becomes too heavy for those slings, and the parents either stop babywearing or upgrade to a more supportive sling. I've long recommended the Ergo Baby Carrier
because of the extra back support it offers.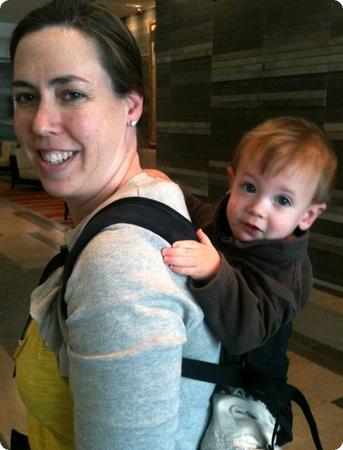 As new products come out, I'm always curious about how they perform compared to my own favorites. When the TogetherBe company contacted me, and asked whether I would like to review the Freehand Baby Carrier
, I jumped at the chance to try it out. I wanted to compare it with the other baby slings I have owned over the years (the Moby Wrap, the Baby Bjorn Active Carrier, and the Ergo). Because sling fit differs considerably from person to person, I also asked two other moms to try the sling. One mom has a newborn baby, the other has a 1 year old, and this review also reflects their feedback.
Features

My favorite thing about the Freehand was the sleek fabric and design. It looked so much less bulky and messy than my Ergo. It also folds up easily and could be stowed in a diaper bag or daypack.
The Freehand sling is designed to be used one of three ways:
With baby on the front, and facing in towards a parent
With baby on the front, and facing out towards the world
With baby on the back, and facing in towards a parent
The Freehand has a hood that can be pulled over baby's head to keep it from falling back when baby is asleep. The hood can be completely detached, but if you detach it, there is no pocket to place it in.
Age and Weight Specifications
The Freehand Baby Carrier is for children 8 - 35 lbs, and adults size 0 - 22
Ease of Use The Freehand is easy to put on and remove. Similar to the Ergo, there are just two clips, one around the waist, and one that sits at shoulder-blade level. Straps make it easy to adjust the carrier's size to better fit you and baby.
A newborn baby over 8 pounds can use the Freehand without any sort of adapter or insert. The newborn mom who I asked to test the freehand said that it was easy to adjust the sling to her baby's size, and that the baby seemed comfortable and well supported in the sling. In contrast, when I tried to use the infant insert with my Ergo, I had a difficult time getting it (and Eilan) installed correctly, and I often had to readjust things because he seemed uncomfortable.
It's slightly more tricky to put a baby in the Freehand forward-facing than it is to have baby facing you. Baby's legs must be inserted through straps, and Eilan never did get comfortable riding forward-facing in the sling. It's difficult for me to tell whether he was actually uncomfortable, or just so used to facing towards me that he didn't like the change.
The Freehand does not have a pocket that you could use to store the detachable hood or an extra diaper. There is also no cold-weather blanket specifically designed to clip onto this carrier.
Style
Both the fabric and design are sleeker and nicer looking than the Ergo and Baby Bjorn (including newer, sleeker models).
Comfort
For me, the Freehand was just as comfortable as the Ergo. The cross-over support straps kept Eilan closer to my body, which seemed to reduce the sensation of heaviness on my low back and shoulders. The shoulders have little padding though, and both of the other moms who tried the Freehand complained that their shoulders hurt as a result.
Eilan never got comfortable sitting forward facing, but seemed very cozy in the other two positions, and I was equally comfortable with this sling as I was with my Ergo.
Conclusion
This is a great option if you are looking for a sling to carry an older baby in and want a more fashionable look than the Ergo provides.
Related Links
Buy on Amazon:
Freehand Baby Carrier
3 comments | Posted on August 19, 2010 |

Save to del.icio.us



Subscribe to our feed